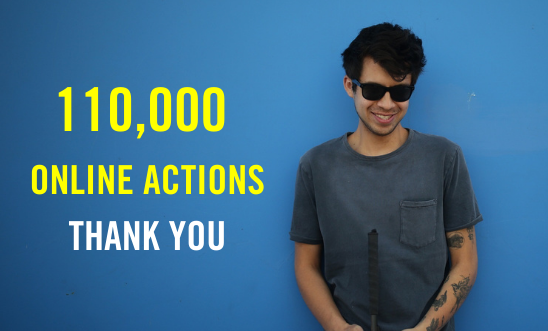 Over 110,000 of you used your power as part of Write for Rights 2020 to stand up and seek justice and freedom for some amazing people. Whether signing petitions, writing letters or emailing authorities - your actions have been heard across the world.
This is the difference we're making...
Gustavo Gatica
23-year old student Gustavo Gatica was protesting against inequality in Chile when he was shot in the face by police. Gustavo permanently lost his sight. But the police responsible for the shooting have never been held to account. Over 30,000 of you emailed the Chilean authorities demanding a proper investigation. Because of your actions, we've managed to keep the spotlight on Gustavo's case, and it's now used around the world as an example of violence by the Chilean police force. We'll be continuing to fight for justice with Gustavo.
Nassima Al-Sada
Nassima fought for women in Saudi Arabia to have the right to drive, and won. She's now been in jail for over two years for her activism. Thanks to your actions, last month's G20 summit hosted by Saudi Arabia was overshadowed by calls from international human rights groups to free Nassima and the other women human rights defenders. While Nassima remains in prison, we will continue campaigning for her immediate and unconditional release.
Melike Balkan and Özgür Gür
Melike and Özgür are facing up to three years in prison for celebrating LGBTI+ Pride at their university in Turkey. Close to 30,000 of you have emailed the Turkish authorities calling for their acquittal. Their trial began on 10 December and ended with a postponement to 30 April 2021. Melike thanked Amnesty supporters for taking action and we will continue pressure on the authorities ahead of their next trial.
Germain Rukuki
Germain is serving a 32 year prison sentence in Burundi. His awful crime? Being a human rights defender. Close to 20,000 of you have emailed and taken action on social media calling on the President of Burundi to release Germain. In 2021 we will continue campaigning to help get Germain back to his family.
Thank you
Thank you to the thousands of you who used your power to campaign for these incredible people. All of the actions that you have not only helped heap pressure onto authorities but also let Gustavo, Nassima, Melike & Özgür and Germain know that we are standing with them in their fights for freedom and justice.
About Amnesty UK Blogs
Our blogs are written by Amnesty International staff, volunteers and other interested individuals, to encourage debate around human rights issues. They do not necessarily represent the views of Amnesty International.
View latest posts