Welcome Presents is a social integration project aimed at counteracting the lack of social networks, isolation, cultural differences, discrimination and stigma connected to being a refugee, as well as address issues of loneliness within the wider population. Welcome Presents provides a monthly cross-cultural event celebrating food, film and friendship with the aim to facilitate an environment and community in which attendees benefit from a regular place they can go where the reception is humane, welcoming, positive and safe. More broadly, our idea of community is shifting from one based on locality to one based more on interests, and Welcome Presents fits neatly into this shift, providing a community space based on shared interest and the desire to connect interculturally and intergenerationally.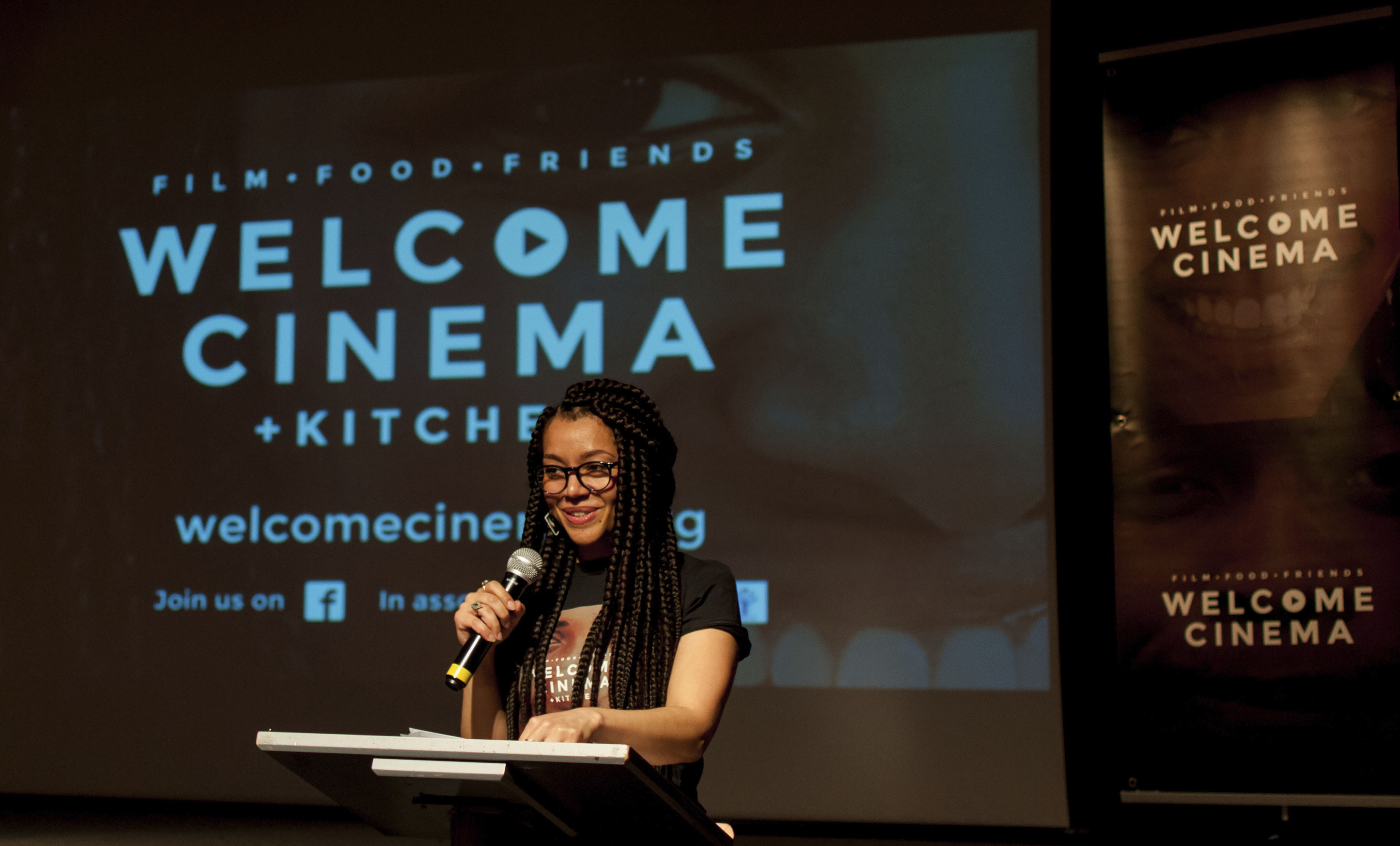 Welcome Cinema Co-Founder hosting 
For every ticket sold
Welcome's model means that for every ticket sold, a refugee attends for free. I get chatting to one of the regulars, Juliana Simon, a St Lucian who now lives in Shoreditch. 'The food and cinema is great, but it's the atmosphere that brings me back,' she says. 'It's brilliant.' It is: a buzzing example of community cinema breaking down barriers. As Phil de Semlyen wrote for Time Out London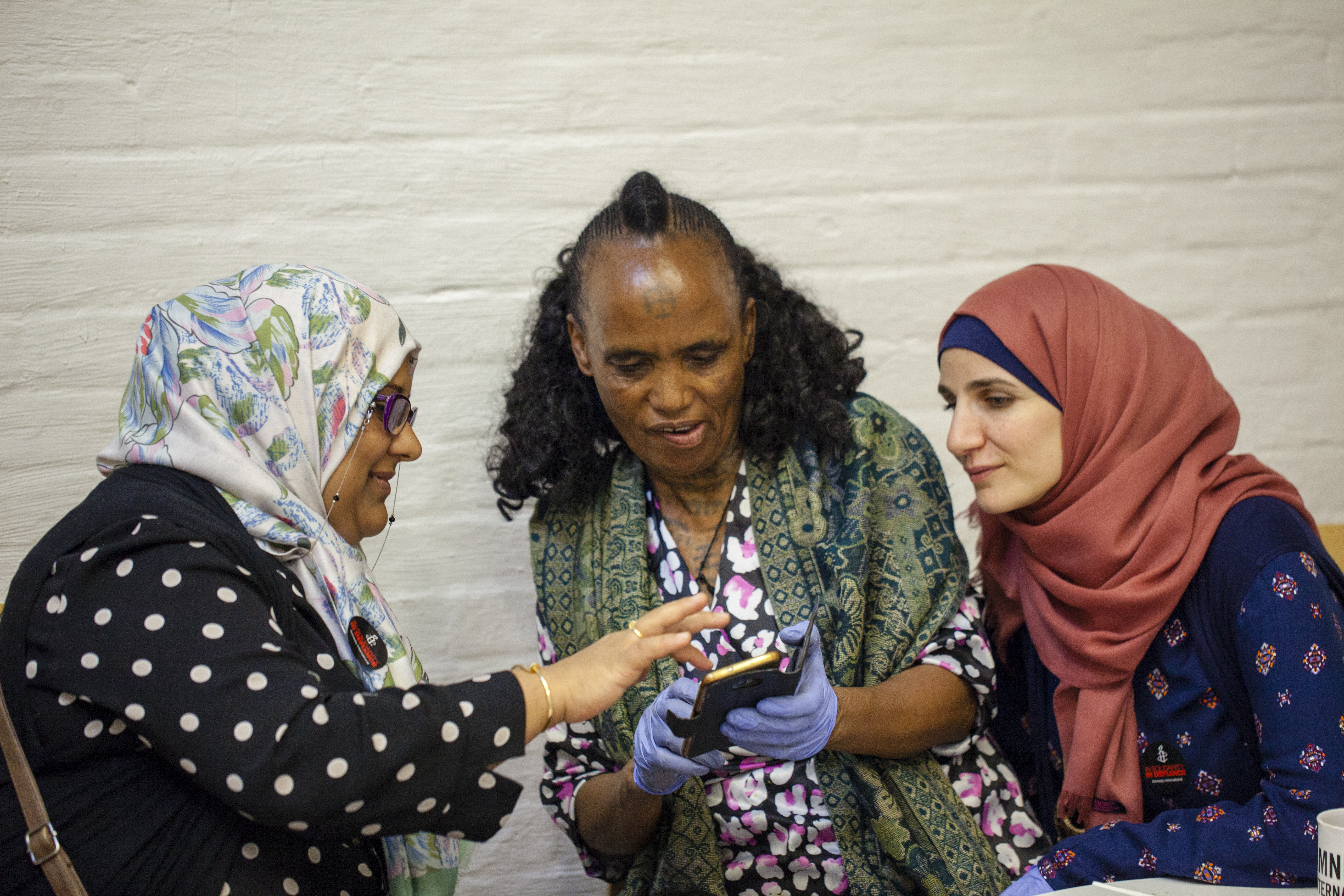 Chefs at Welcome Presents catch up 
Making sense of the world through stories
Welcome Presents was born out of our founders' experience volunteering in Calais during the height of the media frenzy surrounding Europe's 'refugee crisis', witnessing first-hand (through the 'Unofficial' Women and Children's Centre) how loneliness and alienation can be combatted through inclusive community events. At the camp's 'Unofficial' Women and Children's Centre, residents were able to escape, stay dry and watch a film twice a week through a visiting cinema. In addition, our founders also had contacts with the founders of Open Cinema, which concentrates on working with people dealing with homelessness and deprivation, and took inspiration from the work they did. These people and projects demonstrated the power of cinema in terms of bringing people together, and this is how the original spark for Welcome Presents was born.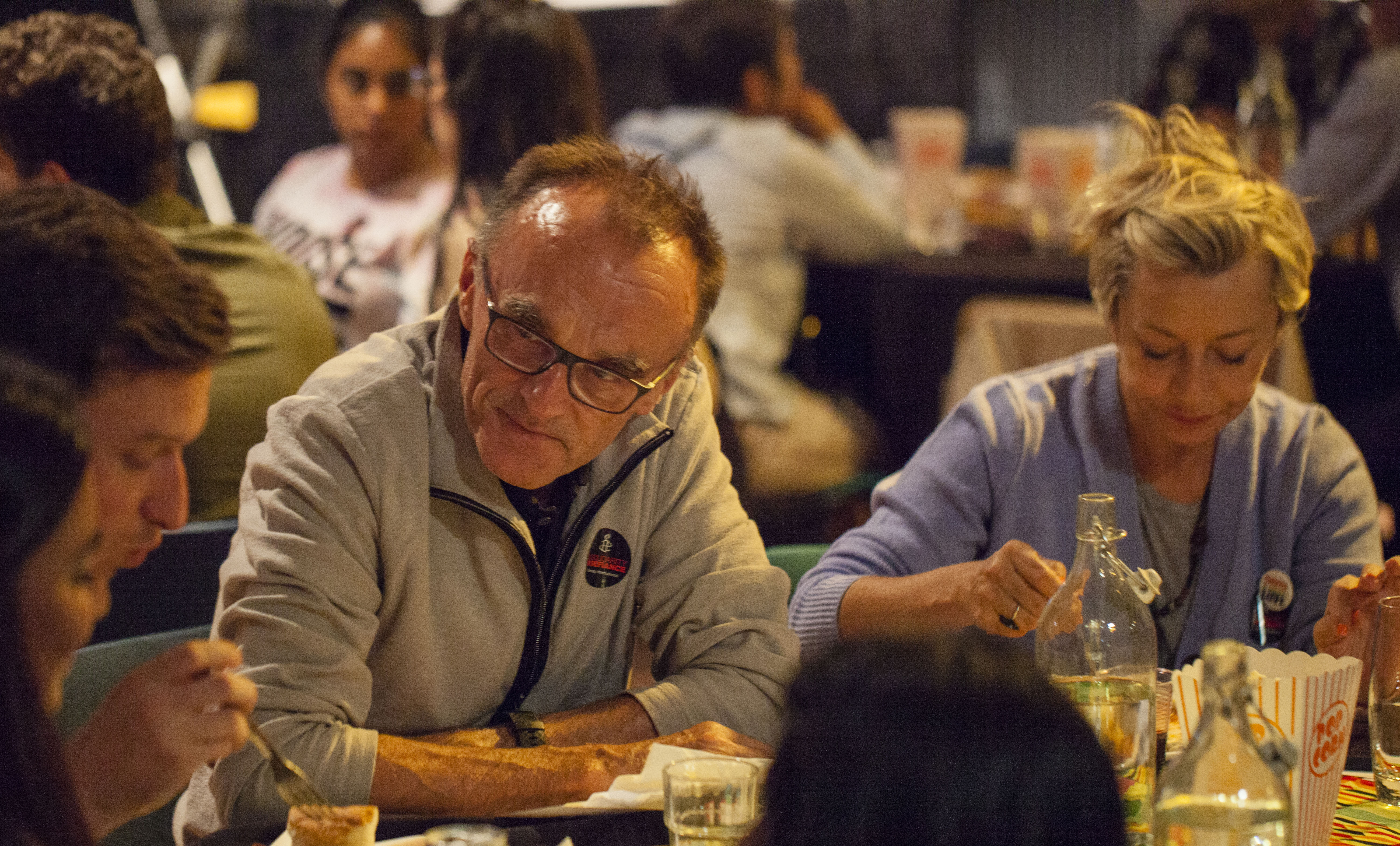 Danny Boyle enjoys a Welcome Kitchen dinner with attendees
Bringing people together 
After returning from Calais, we held several open meetings in June and July 2016 with refugee friends resettled in London in order to understand what would help ease the settlement process for them. Above all, participants expressed their feelings of loneliness, isolation and a desire to connect, for a space to meet people, form networks, socialise and attend community events in a safe and welcoming environment. In July 2016, our founding team attended the Refugee Summit at Amnesty International, where Amnesty was looking to support groups doing grassroots work with refugees and were very excited to help support and get our idea off the ground; Amnesty continues to host our flagship event to this day.
One of the most common things we hear from people who arrive in the UK seeking sanctuary is that they suffer from a feeling of loneliness and lack of community, that these are amongst the hardest things they experience. Welcome Cinema & Kitchen have responded to this very human and understandable problem with a fun, inclusive event that brings people together to share food, enjoy great entertainment and connect with other members of the community. (Phili Boyle - Head of Partnerships, Help Refugees)
The Welcome Cinema + Kitchen 
Welcome Cinema recommends
If you are interested in seeing more, Welcome Cinema recommends these excellent films:
QUEEN OF KATWE
This beautiful, aspirational film tells the story of a young Ugandan girl who fulfils her dream of becoming a world renowned chess champion. Starring Lupita Nyong'o, David Oyelowo and introducing the talented Madina Nalwanga, Queen of Katwe is a movie for all the family. 
Amazon Prime, Googleplay, Youtube, Disney+
LAMB
A universal tale in a rarely seen country. This beautiful portrait of Ethiopia told through the coming of age of a young boy. First-time feature director Yared Zeleke attended New York University's film school, but grew up in Ethiopia's urban slums during some of its most troubled years. A must see. 
Amazon Prime
HIDDEN FIGURES
Hollywood highlights an overlooked part of history in this story about three African American Women fundamental to the space race. First-rate performances from the central cast Taraji P Henson, Octavia Spencer and Janelle Monae. 
Amazon Prime, Googleplay, Youtube
SOUFFRA
A stirring tale of empowerment, this documentary shows how societal change can begin with small steps. Mariam Shaar leads a modest food business in Bourj el Barajneh, a refugee camp south of Beirut, Lebanon. Despite her status as a Palestinian — barred, as with Syrian refugees, from better jobs in Beirut — Ms. Shaar grows her company, Soufra with other women struggling to transcend their social station.
PRIDE
A fun, emotional, uplifting retelling of a moment in British history when the LGBTQ community went out in active support of the striking miners. The takeaway message of "Pride" is that meeting someone of a different race, gender, orientation or status is a lot more informative, honest and enriching than experiencing them from the error-prone safe haven of a TV set's depiction or favorite website's description of them. In doing so, one can make a difference for oneself and the world at large. 
 Amazon Prime, Googleplay, Youtube
About Amnesty UK Blogs
Our blogs are written by Amnesty International staff, volunteers and other interested individuals, to encourage debate around human rights issues. They do not necessarily represent the views of Amnesty International.
View latest posts