Voices from the frontline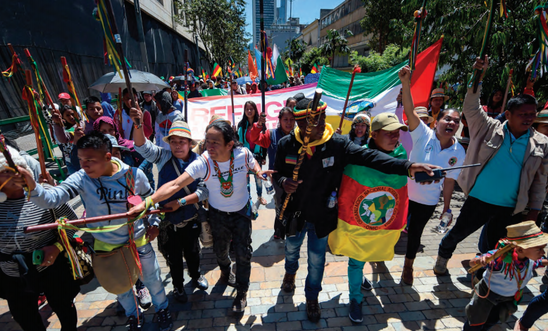 In the midst of a drawn-out winter of gloom and isolation, we are all running a little low on hope.
And one would be forgiven for thinking that a new report from Amnesty and its partners, in which Human Rights Defenders across the world detail the harassment and abuse they face, might not provide much light in all the darkness.
But having spoken to some of the 80+ individuals featured in On the human rights frontline, I'd like to offer a different perspective.  I would challenge anyone reading the words of these journalists, activists and campaigners, not to feel heartened and inspired by their bravery and resilience.
These are the voices of people who are working day in, day out, taking action to combat injustice and make our societies a little better for all of us. And despite what they face – arrest, harassment, smear campaigns and threats to their lives – what comes across is not despair or resignation, but determination to carry on.
'The government weaponises the law to get rid of human rights defenders here… if I don't get killed - I am going to get arrested and if I face threats or abuse or harassment for the work that I'm doing I wouldn't go to state authorities to report it because they are the ones who do these things.              
These are the words of an LGBTI+ rights defender in the Philippines that I spoke to recently while researching the report. What she describes is sadly not uncommon.  In recent years, human rights defenders have faced unprecedented levels of repression, with at least 300 killed in 2019 because of the work they do. Those abuses continue today.
While much of the world's attention has been focused on the pandemic, abuses targeting human rights defenders have continued. In some cases there have been increased risks, for example to LGBTI+ communities and those sharing information about COVID-19 and its impacts. One defender in Egypt told us:
"Our government does not need a pandemic to crack down on civil society.We published the testimonials of some brave health workers (nurses and doctors) who have witnessed the conditions of Egyptian hospitals. As a result, there has been a crackdown on health workers, with medical staff arrested on charge of spreading false news. We have been victims of a smearing campaign that even targeted us personally."
The people we spoke to – in Colombia, Egypt, the Philippines, Russia, Libya, Zimbabwe and Afghanistan – are on the front line in the fight for human rights. They are not going to stop what they are doing, despite the authorities' efforts. But they do need us to stand up with them. And one of the purposes of this report was for human rights defenders themselves to spell out exactly, in their own voices, what help they need, including from the UK Government.
Those at most risk need access to rapid response, individual and collective protection mechanisms. Their organisations need access to appropriate and flexible funding to continue their work. But the thing that people told us would most help is recognition and protection – and for abuses against them to be called out, both by their own governments and the international community. And that is where UK diplomacy can play a part.
"I want to know that other entities, embassies, and organisations at least see that value of what I'm doing – that it's valued and important and needed. We really need this legitimacy, and we need our government to see us as seen by the outside world – that we do important work.' (Human rights defender, Egypt)
Protecting frontline human rights defenders is one of the most effective ways to protect human rights. We need the perspective, support and critical challenge that civil society organisations and human rights defenders bring.  So we need the UK and other governments to speak up. We did hear of some good examples, where action from UK diplomacy had made a real difference. But that support cannot be piecemeal – there is a need for a consistent and coherent strategy, and the needs of human rights defenders should be at the centre of that. That is why their voices are at the centre of this report.
One of the things that struck me most, when talking to the people featured in this report, is that there was always someone worse-off than them. Without exception, everyone I spoke to highlighted the issues and experiences of communities with less support or working on issues receiving less attention. There was solidarity among the human rights community and concern for others even when people were facing repression themselves.
I think this is what is means to be brave: to show the best side of humanity and to carry on standing up for others even while being beaten down oneself. While so many people around the world, every day, are displaying this bravery, that must be enough to give us all some hope.
*We are proud to be publishing On the Human Rights Frontline with the York Centre for Applied Human Rights, working with Peace Brigades International UK, the Law Society England & Wales, The Fund for Global Human Rights, Gender Action for peace & security ( GAPS), , Together We Build It, Just Associates (Jass), Civicus, Frontline Defenders, Forum Asia, Kaleidoscope International Trust and Bond. it's recommendations and in particular it's goals are based on interviews with 82 Human Rights Defenders from Colombia, Egypt, the Philippines, Russia, Libya, Zimbabwe and Afghanistan. The report calls for the UK Government to increase efforts to protect HRDs during the pandemic and beyond.
To read the full report go to www.amnesty.org.uk/onthehumanrightsfrontline  #Defendthedefenders
Thank you to all the organisations and individuals who contributed to this report
About Amnesty UK Blogs
Our blogs are written by Amnesty International staff, volunteers and other interested individuals, to encourage debate around human rights issues. They do not necessarily represent the views of Amnesty International.
View latest posts