Outside Lebanon - inside the blast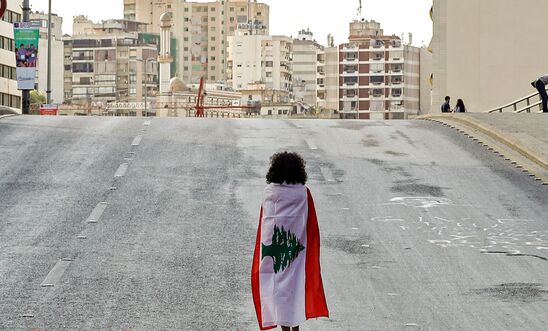 A Lebanese woman protester walks draped in a national flag along the Fuad Chehab avenue, near the Martyrs' Square, in the centre of the capital Beirut on October 29, 2019 on the 13th day of anti-government protests. © JOSEPH EID/AFP via Getty Images
by Farah Abou El Sel
Farah Abou El Sel is a Lebanese human rights activist currently based in Turkey. She has been actively involved with Lebanese and Syrian civil society for the past 10 years with a special focus on grants, donor relations, and communication. Farah is currently a Fellow within the Leaders for Democracy Fellowship program. She tweets @Farah7abouelsel. 
August 4 seemed to be another regular weekday in my living room in Turkey; little did I know that 10 minutes later my whole life would change.
"News of an explosion in the port of Beirut". The news flash struck me like lightning. In the background, the French version of "Manhã De Carnaval" echoed: "The sky has chosen my country to make a new paradise, far from torments, dance an eternal spring for lovers". With these lyrics, sun rays slowly withdrew from my living room, numbness invaded my body as I stood still, amidst a surreal scene.
I turned on the TV to a Lebanese station to receive the news. Mesmerized and in denial, my subconscious was sure the devastating scenes were from another country. I immediately turned off the TV and left my apartment to get some air and light.
I sat on a bench in the park scrolling through social media posts unable to process the amount of destruction, unable to recognize my own city. "Are you okay?" texts started to fire into my mobile. Reality was now hitting me hard as millions of thoughts and concerns rushed into my mind. My younger sister is still in Lebanon - is she in Beirut today? How are dozens of friends, or my Mar Mkhayel house? I realized I needed to start making dreadful, anxiety inducing calls. Lots of lines were closed. Calls went unanswered. Facebook, WhatsApp and Instagram messages went unread. I, like so many other Lebanese people, inside and outside the country, were experiencing a collective form of panic. After a couple of hours, it became apparent that  half of my friends were physically injured and the other half were made homeless as their houses were shattered in the blast.
Numerous theories surfaced about the cause of the explosion, but in reality, it was 2,750 tons of our government's corruption and negligence that exploded in our faces, leaving more than 6000 injured, 200 killed, 4000 homeless, dozens missing and 7 million Lebanese souls with no past to remember and no future to strive for. 
Lebanon has been in continuous unrest since 2005; from assassinations to local clashes and cold wars among political parties. To top it up, the country has recently been struggling economically with a currency that lost more than 70% of its value. This is the result of the political class that has been ruling the country since 1975, mostly formed of warlords and former militias leaders, protected and sustained by impunity. After trying to gather my mind and soul together, I realized how helpless I felt being miles away from my Beirut. I wanted to help people on the ground clean up their houses and be in a first aid tent in Gemmayze. The only little things I could do in that immediate moment was to contribute to local fundraisers rebuilding the places I loved and lived in once upon a time. Places like Le Chef where I had dinner  pretty much every day before moving to Turkey. Yet, cleaning up the streets is not enough if we do not wipe away all the corrupt political figures - removing the rubble is meaningless if we don't remove the warlords from their seats.
It's now over 20 days since the explosion and true to form, no one in power has accepted responsibility and done the honourable thing. How could they when they have no honor. Justice needs to be served to millions of Lebanese, the political class need to be held accountable for the scars on our souls and memories.
Today, Lebanese people are left with two choices, either surrender to this corrupt political class and continue living on a ticking bomb or revolt and reclaim their country back. The sky will not choose my country to build a paradise anymore, it is time we build it ourselves on the foundation of human rights and dignity.
Background:
On 4 August 2020, a large explosion in the port area of Beirut killed at least 180 people and left an estimated 6,000 more injured based on UN figures. 40,000 buildings were damaged and over 70,000 workers lost their jobs as a result of the devastating explosions.
Lebanese authorities said the blast was caused by 2,750 tonnes of ammonium nitrate that had been stored unsafely in a warehouse. Amnesty International has called for an international independent investigation into the incident.
About Amnesty UK Blogs
Our blogs are written by Amnesty International staff, volunteers and other interested individuals, to encourage debate around human rights issues. They do not necessarily represent the views of Amnesty International.
View latest posts