Getting girls talking about coerced marriage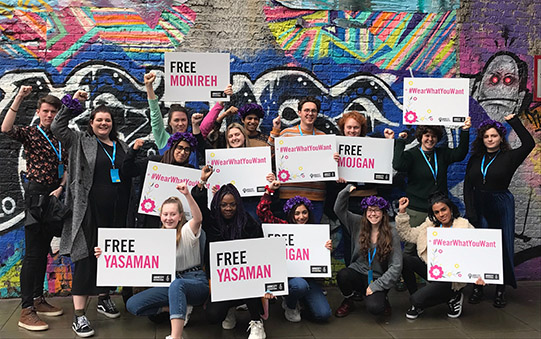 By Mashiyath Qurashy
International Women's day is a day where we celebrate empowered women from across the globe in all walks of life. The fighters, protesters and strikers throughout history are commemorated for all they have done for us in society. However, many women's voices have been muted, including here in the UK. I have been working with Amnesty UK's Rise Up – Youth Activism Training Programme on an issue which is personal to me, a Desi woman, and many other BME women. The issue of coerced marriage. 
 
Personally, I know many women – many of which in my family, whose lives have been turned upside down by marriages at young ages which they were unable to escape. Cultural taboos have meant the 'D' word – divorce – is practically non-existent in my community. Unhappy marriages are a normal part of life for many, when this should never be allowed to be the case. There are fantastic services which aid women in liberating themselves from forced marriages and the coinciding issues, such as the Halo Project and Ashiana.  However, what if we could prevent this entrapment before it began? 
 
I'm launching a campaign to get girls talking. Once we get girls talking, society talks. Often the emotional burden and pressure of saying 'no' to families' wishes and prospects of marriage can be difficult, so creating a public support network for these women to talk about their anxieties without feeling like they have to choose between their family and themselves is so important. Getting a public dialogue out there will show that there are options out there for young women. 
 
Whilst the topic of marriage in BME communities is often met with racism and seen through the lens of victimisation, my aim through this project is to encourage communities and the women in the communities to speak out against violence and manipulative behaviour themselves. Giving them the power to liberate themselves will allow for the necessary cultural shift, where black and brown women can thrive. 
 
I'll be campaigning for change within my community: through setting up discussion groups over chai, online pages and sessions in schools and colleges I hope to provide young girls with a necessary platform to express their views and breakdown the taboos. I am 20 years old and as a young activist it's important to me to prevent an issue which severely affected my parents' generation from similarly affecting mine. In my life I have met many young people nervous on the prospects of marriage. I hope through my campaign I can help turn this into something which is instead joyful.
Mashiyath is one of the participants in Amnesty's 'Rise Up' – a year-long youth activism training programme supported by the Co-operative Bank.
About Amnesty UK Blogs
Our blogs are written by Amnesty International staff, volunteers and other interested individuals, to encourage debate around human rights issues. They do not necessarily represent the views of Amnesty International.
View latest posts