"Football saved my life" - Afghan refugee tells how football helped her flee her country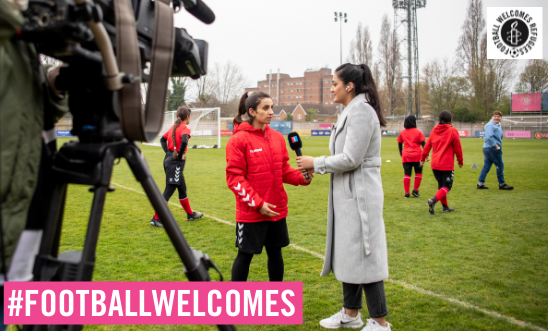 Sabreyah - Captain of the Afghan Women's National Development Football Team - had to flee with her team to the UK from Afghanistan when the Taliban seized power last year. The team's profile as women playing football in the country meant their lives were at risk. The team have been involved in Amnesty International UK's Football Welcomes project, which aims to welcome refugees in communities across the country. Here she talks movingly about her experience and how football helped save her life.
"Before I had to flee Afghanistan last year, I had a good life, I practised football, studied and had a job. I went to university early every morning and then to my office and trained with the Herat Football Federation three days a week. I had a good life until our destiny changed and good days were taken away from us.
Leaving my homeland forever was the most dangerous journey of my life, but I was able to overcome all of the difficulties. I learned a lot from this trip; waiting and trying leads to success and that life with all its problems and hardships still shows me good days, and those days are here.
I was always afraid for my country and now my fears have increased. I am afraid that the women and girls of my homeland will be in torment, I am afraid that my country will be ruined, I am afraid that the people of my homeland will leave their homes because of the war and my country will be empty. But I always hope that it calms down. I hope that women will regain the position they held in the past and I hope that the oppressive and murderous people who rule my country will be overcome and return to the good days of my country.
Football has played a big role in settling into life in the UK. I always think that if I were not a footballer, I would be in Afghanistan now, and I would see male violence against female every day, and I would probably have had the hardest days. I am glad that football saved my life and the lives of my family. I am happy that the efforts I made in football were not fruitless and had a good result for me. My goal in life is to become a famous player and help my country.
Football for me means life; it means peace. I love the pure feeling that football gives me. Football means a sense of self-sacrifice, good teamwork. Great feeling of laughter from the bottom of your heart and joy after the victory. It means being in love, I fell in love. I love football.
A strong presence in football is very important to us as women because we prove that we are still alive, and that Afghan women's football is not dead.
We want to be a thorn in the side of those who say that women and girls should not exercise and study. We were peace activists in my own country and now we are peace activists abroad. After my experience, I can say that today is the moment I breathe - I am alive and I continue my interest in football, and this is the best moment of my life."
Watch the Afghan Women's National Development Football Team line up against the women's Parliamentary football team and find out more about our Football Welcomes project.
About Amnesty UK Blogs
Our blogs are written by Amnesty International staff, volunteers and other interested individuals, to encourage debate around human rights issues. They do not necessarily represent the views of Amnesty International.
View latest posts