Food, film and that welcoming feeling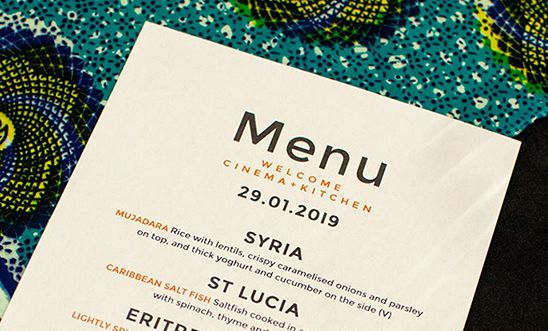 Welcome Cinema and Kitchen menu © Welcome Cinema
By Helen Lindley
The working day may have been drawing to a close for many, with office workers across the city shutting down their computers and heading home – but at Amnesty UK's Human Rights Action Centre, the auditorium was just starting to come to life.
As people of all ages and from all walks of life filed in to the warmth of the hall, the air became thick with the lively buzz of friendly chatter, not to mention the tantalising smell of home-cooked food. 
This could only mean one thing: the first monthly Welcome Cinema + Kitchen film screening and supper club event of 2019 was officially underway! 
Tasting the world 
My partner and I found ourselves seats at one of the large round tables that had been set up for the evening meal, exchanged smiles and greetings with our fellow diners, and promptly drifted – like moths to a flame – towards a queue forming at trestle tables carrying a delicious-looking spread. 
This was no ordinary buffet. Our chefs for the evening – women from countries including St Lucia, Ivory Coast, Eritrea, Ethiopia and Syria – were proudly unveiling large trays of steaming, freshly-cooked fare, all of which represented traditional dishes from their respective homelands. 
And proud they should've been! Everything we tasted, from a fragrant Syrian salad to tangy Ethiopian 'injera' (a pancake-like flatbread of sourdough, typically eaten heaped with spicy stews) and moreish Caribbean saltfish, was as flavoursome as it was filling.  
After we'd finished eating, each chef introduced herself and told us all a bit about the dish she'd cooked, which was a lovely touch – and super interesting for a self-professed foodie like me. 
Crazy Rich Asians 
Next, the lights went down, the big screen at the front of the room flickered to life, and with full bellies we settled down for a screening of Crazy Rich Asians – a fun, colourful romcom with an eye-opening tale of extreme culture clash at its heart. 
I'm no film critic, but I will say that I thoroughly enjoyed the movie. On the surface it has all the well-worn conventions of a classic rags-to-riches fairytale (think Cinderella). Poor girl meets rich boy, they fall in love, get married (despite clear disapproval from his family and social circles) and her world is changed forever. But dig deeper, and there's much more to it than that. 
For starters, the cast is entirely Asian – which shouldn't be remarkable in the 21st century, but this is a Hollywood film we're talking about. It's making a statement, and an important one at that. It's also very well acted, uncharacteristically quirky for a romcom, and laugh-out-loud funny – all of which more than makes up for the familiar plot. If you haven't seen it, I'd highly recommend it. 
Meeting the cast 
Rounding off the evening was a Q&A with Crazy Rich Asian actor Jing Lusi. This offered a rare and fascinating glimpse into life behind the scenes of such a lively, glitzy production – as well as a space to share interpretations of what we'd just watched, and discuss important topics like BAME representation in Hollywood. 
Join the fun 
If you're a cinema buff, a food fan, fancy a night out that's a bit different, or simply want to meet new people, I have good news for you: Welcome Cinema + Kitchen happens every month at Amnesty UK's Human Rights Action Centre in London. Better still, for each ticket bought a refugee or asylum seeker goes free. 
Why not join us on 28th February for Sister Act II and a delicious home-cooked meal? Click here to find out more. 
 
About Amnesty UK Blogs
Our blogs are written by Amnesty International staff, volunteers and other interested individuals, to encourage debate around human rights issues. They do not necessarily represent the views of Amnesty International.
View latest posts