20 minutes of life and death in Beirut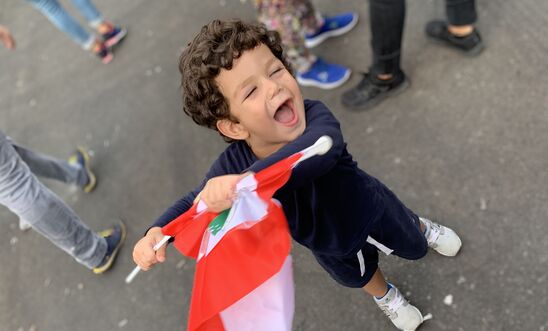 Kian, Khoury's son, joining the October Revolution protests in Beirut, 2019 © Rana Khoury
Rana Khoury is a creative director, university lecturer and social entrepreneur. She co-founded the social enterprise"Phenomenal Women" that links women survivors of domestic violence, sexual abuse and discrimination to training opportunities and job prospects.
"That was close". This is the first sentence my 3-year old son Kian told me as he got out of the car after finally reaching home.
I had been waiting for him under our building, ignoring the broken doors and the shattered glass in our apartment. For 20 minutes, I felt dead, knowing that my son was in Gemayzeh, one of the worst hit areas by the explosion of August 4 in Beirut. For 20 minutes, I couldn't reach him. 
"That was close". A sentence he picked-up from Paw Patrol, his favorite cartoon. But this wasn't fiction. His face looked charred from the smoke, his hair full of tiny glass pieces. But he was alive. That's what we were reduced to. Finding blessings in staying alive. I hugged him so tight. 
In these 20 minutes of hell, flashbacks scrolled in my head at a frightening speed. Those who had a near-death experience often say that they see their lives flashing by in front of them. I was alive, but dead worried.
A few minutes earlier, the ground under a people that had already lost their rights, their savings, their jobs, their freedom, their health, and their happiness in the recent year was shaken with a magnitude of a 4.5 earthquake. The first, smaller explosion did feel  like an earthquake. But only for a few seconds. And then BOOM. The reality blew in our faces, sending us the message via glass pieces shattered all over the place, mixed with blood and the screams of the victims .
A week earlier, my son had asked me when I will remove this mask I wear every time I go out of the house. Just like the rest of the planet, we, in Lebanon, were facing the covid-19 pandemic, but with a healthcare system at breaking point barely surviving and without any governmental support.
A month earlier, my son was wondering why I spent so much time at the bank, and if I was hiding anything from him, because my frequent trips to the ATM had raised his suspicions. I was only trying to get some money out. Money I had earned working three jobs to be able to sustain and give him a safe and happy life. Earlier this year the bankers and the government imposed tight controls on withdrawals, meaning normal people like us are not allowed to access our savings, or in very limited, ridiculous amounts.The corruption of the political class has led to a complete economic disaster in the country, with many struggling to cope and more than half of the population living under the poverty line.
One of the effects of the Beirut explosion has been  a worsening of the economic crisis. The devaluation of the local currency had already made imports challenging, as products have become outstandingly expensive for Lebanese to afford, yet much needed in a country that does not produce much. And now, imports are also facing a huge logistical obstacle. Beirut port, which was the epicentre of the explosion, is the country's main logistics hub and its deepest sea port. 
Back in February, my son asked me why he was no longer allowed to go with me to the protests calling for economic, social and political reforms. He used to love waving his flag and chanting on the streets. But the revolution was not safe anymore for him. Many of our fellow citizens have been incarcerated for peacefully protesting, expressing their opinions online, or just being on the street at the wrong time. Those lucky enough not to be interrogated or tortured in detention centers were met with tear gas, rubber bullets and even real bullets from the Lebanese security forces .
In October 2019, my son asked me why we were here protesting in the street. I tried my best to explain the good guys vs bad guys story without traumatizing him with its details. He is only 3, but he felt we were all superheroes, fighting the monsters. And I liked this analogy.
Now, on this  August 4, after all these flashbacks in my mind and when I hugged him, I wondered what story I will tell him now.
The murderous explosion of August 4 was not an accident. The corruption entrenched in the Lebanese political system, the mismanagement and the  oppression by the ruling mafia in Lebanon had already created hell on earth for Lebanese people for decades now. The blast was simply the deadly coup.
Following the explosion, many took their anger and demands for justice to the streets. They were met, once again, with teargas, rubber bullets and live ammunition by security forces. But this time it was the epitome of insolence. In hospital rooms, people who were injured from the explosion were seated in the same room with those injured at the protests. This image sums up the dead end we are stuck in.
And then comes the expectation everyone has from the people of Lebanon. The legend of rising again from the ashes. Songs were blasting on radios calling for resilience and reincarnation. Even the right to grieve, to feel helpless has been taken away from us. 
 "That was close". This was no longer about politics, regional dynamics, war threats and peace treaties. This has become a pure human survival instinct. An instinct to protect my son. For 20 minutes, I felt dead. But then when I hugged my son, I also knew that it was going to take much more to feel alive again.
Background:
On 4 August 2020, a large explosion in the port area of Beirut killed at least 180 people and left an estimated 6,000 more injured based on UN figures. 40,000 buildings were damaged and over 70,000 workers lost their jobs as a result of the devastating explosions.
Lebanese authorities said the blast was caused by 2,750 tonnes of ammonium nitrate that had been stored unsafely in a warehouse. Amnesty International has called for an international independent investigation into the incident.
About Amnesty UK Blogs
Our blogs are written by Amnesty International staff, volunteers and other interested individuals, to encourage debate around human rights issues. They do not necessarily represent the views of Amnesty International.
View latest posts