Become an Amnesty Trainer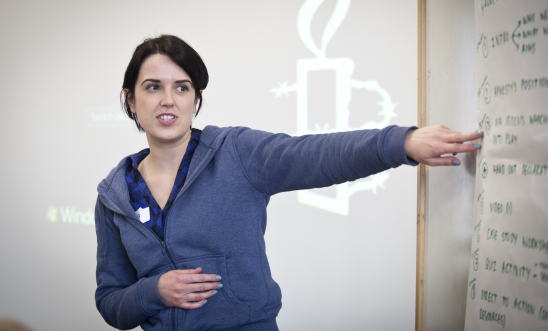 © Carmen Valiño / Amnesty International UK
Join our Amnesty Trainer Programme and become part of a network of skilled and knowledgeable trainers from around the UK.
You'll inspire and educate people from different walks of life to stand up for human rights and get involved with our work.
If you find yourself regularly speaking to friends and colleagues about freedom and equality share your passion for human rights with others. We'll provide you with the training, resources and support to help you become part of our enthusiastic and active network of Amnesty Trainers.
Get started
Our one-day Train the Trainers Induction training will prepare you to deliver and facilitate interactive and participatory training sessions and workshops on Amnesty campaigns, activism skills and human rights education.
Once you've attended, you'll be able to join our Amnesty Trainer Programme and deliver inspiring sessions to adult audiences all across the UK, from local groups, to universities, to community centres.
Due to the current coronavirus situation, we are not currently running any training sessions for new Trainers.
Get in touch
We are here to help and offer advice.
Email us at training@amnesty.org.uk
Invite an Amnesty Trainer to speak
Find out how to invite an Amnesty Trainer to speak at your group or organisation