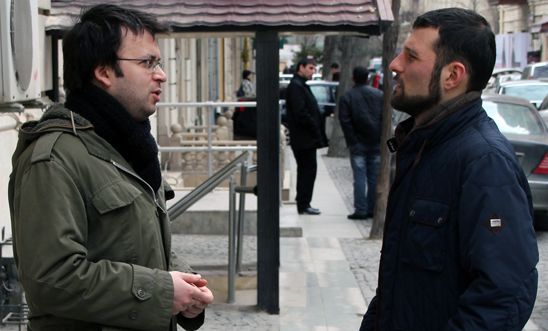 Emin Milli and Adnan Hajizada outside the restaurant where they were attacked two years earlier © Amnesty International
'I decided to become a writer because our society needs words of truth and people who can stand behind their words.'
Emin Milli, writer and dissident
Three years ago bloggers Adnan Hajizade and Emin Milli were in a restaurant when two strangers attacked them. They reported the attack to the police. And then they were arrested for 'hooliganism'.
You might think this a strange twist of events. But this all happened just a week after Adnan posted a video on YouTube showing a man dressed as a donkey holding a press conference. Emin had ordered the donkey costume. It was supposed to be a satirical take on the government. It seems officials failed to see the joke.
'They don't jail all the bloggers. They pick up two or three who go – in their view – too far.'
Emin 
Emin and Adnan had a history of criticising the government online – both prolific bloggers, they are active voices in the dissident community and regularly speak out against government abuses. But the video appears to have been the last straw.
Unable to officially punish them for posting the video, however, authorities instead arrested them on trumped up charges of hooliganism. Adnan and Emin were later convicted of hooliganism and inflicting minor bodily harm at an unfair trial, and sentenced to two and two and a half years respectively.
Released, but not acquitted
We decided that Emin and Adnan had been detained for peacefully expressing their views and determined them prisoners of conscience. We joined several other human rights organisations in calling for their immediate release
In November 2010, after spending 16 months in jail, the two were released on parole within a day of one another.
"I want to get a full acquittal, because I'm not a hooligan." – Adnan
This surprise early release was a great success but the two men should never have been arrested in the first place, and we continue to call on the government to fully acquit them of all charges.
Undeterred
'The government guarantees the rights of journalists will be upheld – there is no official censorship - but anyone doing real journalism is at risk. Words are dangerous.'
Emin
Since their release, both Adnan and Emin have continued to risk their freedom to raise awareness of human rights issues in Azerbaijan and speak out against abuses.
After moving to London for a year to study for a Masters at the School of Oriental and African Studies (and speaking at our Annual General Meeting while he was here!), Emin returned to Azerbaijan in 2012. He was arrested in January 2013 after attending a peaceful protest to demonstrate against the authorities' violent dispersal of another, larger, protest a week before.
'Only you can silence yourself'
Adnan
Adnan Hajizade is a founding member of the youth movement known as OL!, which advocates non-violence and tolerance and has recently set up the Free Thought University Project
Both men continue to stand up to the authorities despite knowing only too well the risks they face. But they are not unique - many Azerbaijani men and women are speaking out against the government's repression, preferring to face the risks and challenge the status quo rather than suffer in silence. Many of them, like Adnan and Emin, are paying the price.