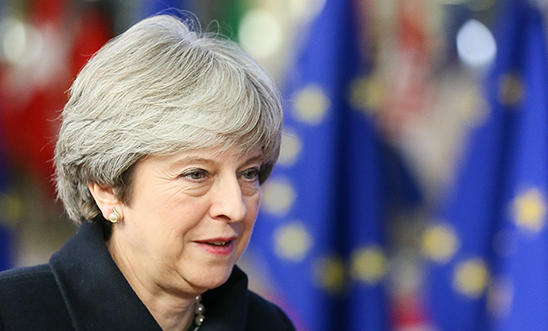 © Stephanie Lecocq/EPA-EFE/REX/Shutterstock
Whether you're for or against it, everyone's thinking about it. Of course we're talking about Brexit.
But did you know that rights you currently have are at risk as a result of the EU Withdrawal Bill?
The EU Withdrawal Bill (also known as the 'Brexit bill') is being debated in Parliament at the moment. What's worrying is that it's set to significantly reduce human rights protections in the UK – a fact many people may not even realise.
Growing threat
Brexit is just one of many topics covered in our Annual Report 2017/18: The State of the World's Human Rights an assessment of human rights in 159 countries around the world. Find out more now:
A rush to sign new trade deals means there is a growing, and very real, threat that the UK will 'soft-pedal' on human rights globally. 
Our government's failure to retain the EU Charter of Fundamental Rights in domestic law will weaken the protections currently available to people. Furthermore, protections such as the right to equality, are also at risk.
But the problems run deep beyond our borders. The UK's so-called 'Global Britain' drive to secure new trade deals as we prepare to leave the EU is leading to a heightened risk of the UK ministers downplaying human rights issues. They could be doing this even where countries currently have extremely poor human rights records. 
Upholding values
In fact, it's already happening. Just last month, China's national newspaper The Global Times praised Prime Minister Theresa May for 'resisting radical pressure at home' to raise concerns over the treatment of democracy protesters in Hong Kong. Instead of shining a light on these serious abuses, May is focusing on trade and investment links with the world's second-largest economy. 
The UK needs to uphold the principles of fair trials, free speech and decent labour standards. As Brexit gets under way, we must not trade away our values and rights in our eagerness to sign new deals.
2017 was a year in which governments around the world were shamelessly turning the clock back on decades of hard-won protections. From the United Kingdom to the United States, and Iraq to South Sudan and Myanmar, it was a very troubling year for human rights. But we refuse to be silenced.
Check out our comprehensive analysis of the state of the world's human rights in 2017/18: