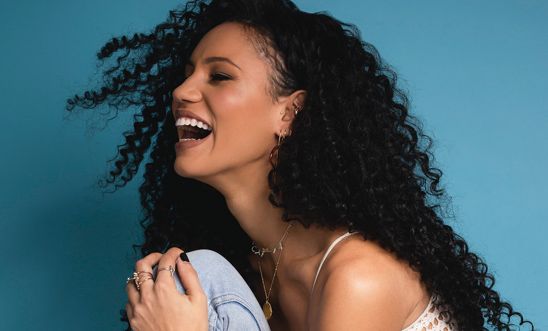 "​Amnesty fight tirelessly for freedom, justice and peace, and it is an honour to fight alongside them"
Vick is a multi-award winning TV & radio presenter, print & broadcast journalist, author, philanthropist and activist best known for her work on ​Capital Breakfast, The BAFTAs, The X Factor ​(ITV)​, Crufts (Channel 4)​, Carnage ​(Sky One),​ Art50 ​(Sky Arts), ​Shipwrecked ​(E4)​ a​nd reporting for ITN.
Described as a 'trailblazer' in her field, Nigerian-Geordie Vick studied languages at the University of Cambridge. She kick-started her career in Buenos Aires where she covered​ ​Latin American current affairs, arts and culture for ​The Argentina Independent ​as their youngest ever journalist. Her work in mainstream British TV and radio has seen her receive the ​Future Shapers​ 'Broadcast Powerhouse Award' by Marie Claire, whilst her volunteer work with refugee charities Akwaaba and Help Refugees saw her named one of Nike's 'Women Who Changed The Game'. Vick is currently writing her second children's book and, committed to equal representation and opportunities for all, works closely with organisations supporting young people from disadvantaged backgrounds.
Through broadcasting, storytelling, volunteering and using her platform to speak up for what she believes in, Vick is dedicated to making the world a more positive place.
On speaking about joining Amnesty, Vick says:
"Amnesty International has been an important part of my life for over a decade. I think I was about 16, at school, and remember studying prisoners of conscience in RS, and this intense feeling of injustice rose up within me the more and more I learned about those who were being unfairly incarcerated, tortured and killed for their beliefs. I asked my teacher about any ways we could help, and she introduced me to Amnesty.
They had a campaign to put pressure on corrupt regimes, which I worked on throughout the rest of my time as a student, writing letters to governments and authorities urging them to reverse their decisions, publicising their actions via media outlets to highlight to the world the human rights abuses at play and encourage international pressure, as well as sending letters of solidarity to the prisoners.
I'm proud to have worked with Amnesty International ever since, from an ethical fashion campaign while at uni to investigating the improper use of tasers by the Buenos Aires Metropolitan Police in Argentina, as well as hosting their stage at the Women's March in London, standing together for women's and LGBTQ rights, racial equality, workers' rights,​ ​immigration reform and reproductive rights for women around the world.
And now more than ever, looking out for the safety and human rights of the most vulnerable is so important, at a time when we're being advised to stay at home, it is so frightening and dangerous for those for whom home is not a safe space: victims of domestic abuse, the homeless, destitute, refugees and asylum seekers without residence or support.
I believe that every single person should be able to enjoy all the rights enshrined in the Universal Declaration of Human Rights. Sometimes we can feel so powerless about what we can do in the face of the atrocities and injustices of our world, but Amnesty International have shown me that through diligent research, policy, publicity and pressure, prisoners of conscience have been released, threats have been averted and human lives have been saved".
About Amnesty Ambassadors
Amnesty Ambassadors are made up of profile individuals from a broad range of disciplines. Using their profile and networks our Ambassador's allow us to educate, amplify and inspire more and more people to join the fight for human rights.