Support Esther's battle for justice against Shell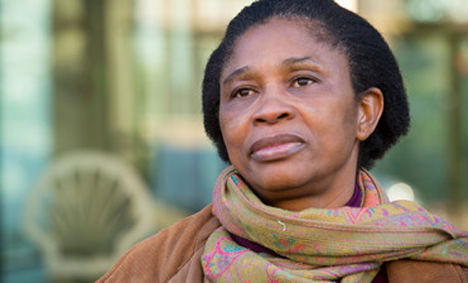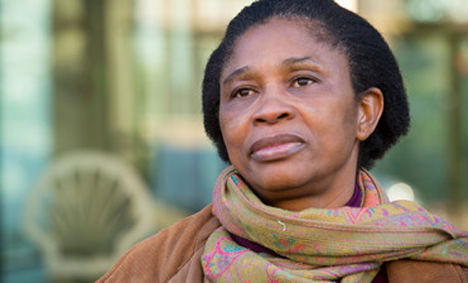 Esther Kiobel is taking on one of the world's biggest oil companies – Shell – in a final fight for justice for her husband's killing.

She has pursued them for more than 20 years and now Esther is taking Shell to court for colluding in her husband's execution in 1995. On Shell's insistence that the government "deal with" environmental protests, the military killed and tortured people in a brutal crackdown that culminated in the 1995 sham trial and hanging of nine Nigerian men, including Esther's husband, Dr Barinem Kiobel.

As the ultimate David and Goliath battle unfolds, tell Shell you are supporting Esther.
Support Esther's battle for justice against Shell
Esther vs Shell
"I still feel pain in my heart that my husband was killed, and I need justice for him, and my people." Esther Kiobel
Shell's quest for oil has devastated the once fertile land in the Niger Delta. Communities have been left destitute from decades of pollution. Oil spills have ravaged farmland and rivers, contaminating their water and putting their health at grave risk. In the 1990s, Shell seemingly would stop at nothing to make sure they were turning a profit. The company urged Nigeria's military government to deal with environmental protests – knowing full well what that could mean. The military killed and tortured people in a brutal crackdown that culminated in the 1995 sham trial and hanging of nine Nigerian men, including Esther's husband, Dr Barinem Kiobel.
Losing her husband tore Esther's world apart. Fearing for her life, she fled Nigeria with her children. She never stopped struggling to have her husband's name cleared.
This month, Esther is taking Shell to court in the Netherlands in what will be a tense David vs Goliath face-off. Shell has done everything it can to keep her complaints out of the public eye. But Esther won't let them make her feel small. Neither should we.
Tell Shell you stand with Esther. Send them a message.
Esther's story
Beginnings
By the time Esther Ita was born in 1964, Port Harcourt, her home city, was well on its way to becoming the economic centre for Nigeria's oil industry. Shell had discovered oil in 1956 in the region, and then two years later on the traditional lands of the Ogoni people.
While Shell bedded in its operations in the Niger Delta, Esther herself moved to Lagos and its surrounds, growing up far from the ravages caused by Shell's pursuit of oil wealth in her homeland. Ravages which prompted writer and activist Ken Saro-Wiwa to launch the Movement for the Survival of the Ogoni People (MOSOP) in 1990. Oil spills had polluted their land and water, robbing locals of their livelihoods. Shell carried on regardless, working with its business partner, the Nigerian government, which ruthlessly crushed protests as they arose.
In the early 1990s, Esther returned to Port Harcourt and married a man her aunt had taken in as a boy: Barinem Kiobel. Now a tourism expert, he was studying for a PhD in the UK, and was in and out of Nigeria. On their trips outside Port Harcourt, Esther saw first-hand the pollution in Ogoniland. "Sometimes when I visited the villages with my sisters-in-law, I visited the farms," she said. "You could see oil in the water." She also recalled seeing gas flares.
By 1993, the Ogoni resistance movement had gathered momentum, with 300,000 out of a population of 500,000 taking peacefully to the streets in January to protest against Shell. Their campaigning forced Shell to shut its oil wells in Ogoniland; the company cited security concerns.
Sinister moves to crush opposition
Although Ogoniland made up only a small part of the oil-producing Niger Delta, the Ogoni protests had wide implications. By now, MOSOP's vocal dissent had captured international attention, alarming Nigeria's new military leader, General Sani Abacha, and Shell. With one-fifth of its total oil and natural gas reserves in Nigeria, Shell needed to protect its assets. And as the government's finances completely relied on oil, it was in its interests to protect the interests of Shell, the single largest company in Nigeria.
Shell made sure to let the government know it was not happy about losing money in Nigeria. In a letter to the local governor, it wrote that community disruptions had caused a drop in oil production by almost nine million barrels in 1993. In another letter, it asked for "any assistance you can give to minimise these disruptions." In January 1994, the government set up a special military unit under Major Paul Okuntimo. The force went on to lead a crackdown on Ogoni communities, arresting and torturing people, gunning people down, and raping women and girls.
Shell also had its own security force, which worked regularly with the Nigerian security agency. Shell wasted no time in smearing MOSOP and Ken Saro-Wiwa, denying their claims of environmental pollution (claims later backed up by a United Nations study) and branding them violent troublemakers. A confidential Shell memo reveals that it paid Okuntimo and his police unit an "honorarium" of 30,000 Naira (US$1,364) following one of its operations in Ogoniland.
On 30 April 1994, after the military had carried out brutal attacks on Ogoni villages, Brian Anderson, the then Chair of Shell Nigeria, met President Sani Abacha for the first time. His concerns appeared firmly financial. "I raised the problem of the Ogonis and Ken Saro-Wiwa, pointing out that Shell had not been in the area for almost a year," wrote Anderson in his own notes of the meeting. He underlined the fact that Shell would "continue to invest so long as we felt that there was political stability and that the economic terms and conditions of doing business were sufficiently attractive."
Less than one month later, MOSOP leader Ken Saro-Wiwa and 14 other men, including Esther's husband, Dr Barinem Kiobel, were arrested, accused of involvement in the killing of four Ogoni chiefs who were known critics of MOSOP. No credible evidence was ever presented to substantiate the allegations against the men.
By then, Barinem was Commissioner of Commerce, Industry and Tourism in the government of Rivers State. It remains unclear why Barinem was targeted alongside Ken Saro-Wiwa and his supporters, as he was not a member of MOSOP. But before his arrest, Barinem had made his superiors aware of concerns that others were raising about the situation in Ogoniland – and after he was detained, he appealed for the military to withdraw from the region.
Esther says Barinem fell out of favour after refusing to work with the government against Ken. "My husband said, 'Sorry, number one I'm a Christian. Number two I'm a child of Ogoni. I cannot collaborate with you guys to harm Ken.' That's what he told them. And I believe from there he became an enemy to them."
Assaulted and detained
Barinem's arrest had immediate consequences for Esther. She lost her catering job because, she says, "Everyone saw me as the wife of a killer." She had four children, and without her income or Barinem's, life got a lot harder. She says she felt "there will be no hope again because my husband was the breadwinner of the family".  She worried that he wouldn't be able to help people as he had before, but she refused to give in to despair. "Even if I feel sad, I still have to get myself together," she says, "and go ahead and fight, because he didn't have anyone else close to him but me."
In the weeks following Barinem's arrest, Esther would have to dig deep for that courage time and again. When she tried to visit Barinem in jail, Paul Okuntimo, recently promoted to Lt. Colonel, was the commanding officer guarding him. He took her to another room and propositioned her. "When I pushed him away, I guess he got upset, and slapped me. He has a big hand, and that was like fire coming out. I slapped him back." Okuntimo was furious. "He started a fight with me, left me half-naked, and called the army," she says. "They dragged me, so there were all these cuts… and they tied me like an animal." They then threw Esther into a van and drove her to an unknown place where she was held for two weeks. Somehow, Barinem found out what happened. He wrote a letter from jail, calling for her immediate release. The tribunal that would try Barinem and the other Ogoni 9 ordered Esther's release. "That was how I was saved," she says.
Hanged after sham trial
After the men's arrest, military operations in Ogoniland were stepped up. Okuntimo even appeared on public television, boasting about attacking villages.
Meanwhile, Shell was under no illusion about the likely outcome of the trial of the Ogoni 9. Shell did not advocate for their release until it was too late, despite knowing the trial was blatantly unfair. On 6 April 1995, the UK High Commissioner in Nigeria told Shell's Brian Anderson as much, saying he believed "the government will make sure that he (Ken Saro-Wiwa) is found guilty."
On 30 October, the men were sentenced to death. Ken and Barinem were sentenced for inciting murder – the others for carrying them out.
"The judgement of the Tribunal is not merely wrong, illogical or perverse. It is downright dishonest," wrote Michael Birnbaum QC, a British lawyer who observed the trial. "I believe that the Tribunal first decided on its verdict and then sought for arguments to justify them."
In its pursuit of profit, Shell contributed to grave human rights violations in Ogoniland, including the unfair trial and execution of the Ogoni 9. The executions were the end result of the government's campaign to silence community protests – a campaign that Shell spurred on.
Within 10 days – even as Esther, family members and supporters around the world were appealing against the conviction – the men were executed. Esther was never informed when her husband would be hanged. She was with Ken Saro-Wiwa's family, she says, when something told her she needed to see Barinem that day.
"'I want to go see my husband,'" she recalls saying. "'I just have to go now.' So we went and called the driver, went down there, I took some food." There, recognizing Ken's sister who was also with them, an army officer made a gesture with his hands to her. "She turned to us, [saying]: 'Oh my God, they said they're dead!'. I immediately fainted."
Only later would Esther discover the details of her husband's death. "When they were trying to kill Ken," she recalls, "his spirit did not go, he didn't die instantly, he refused. They now kept him aside, and brought my husband in to be hanged. Ken heard my husband was crying, and talking about how he was innocent. So, after Ken saw my husband hanged and killed he felt so bad." Saro-Wiwa was executed shortly afterwards, reportedly saying the immortal final words "Lord take my soul, but the struggle continues".
Still in shock, Esther collected Barinem's personal effects from the prison yard. Among them were a comb which still had some of his hair on it, and "a little note, where it said… how he loves us, the family."
Distraught though she is recalling these events today, Esther is not daunted. "When I remember all this that happened, it gives me strength – fighting for justice, for him."