THANKS FOR SHOWING YOUR SUPPORT, !name
Every action taken has an impact. You've helped change governments' minds, free prisoners and stop executions.
Help us to keep campaigning for people all over the world who are denied their human rights by making a financial donation if you are able. Thank you.
Help quash Loujain's sentence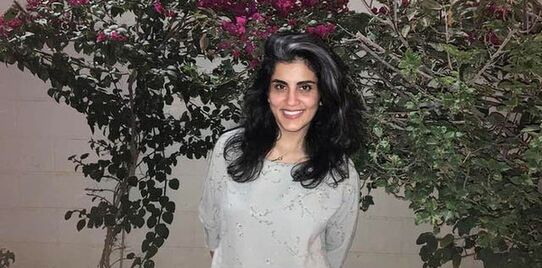 Saudi women's rights defender Loujain al-Hathloul was sentenced to five years and eight months in prison in December 2020.
Read more
She has since been released on strict probation conditions and faces a five-year travel ban. Despite her release from prison, Loujain is far from free.
Loujain's unjust imprisonment
In May 2018, Loujain al-Hathloul was arrested and detained without charge or trial until March 2019.  For the first three months of detention, Loujain endured torture, sexual abuse and other ill-treatment and had no access to her family or lawyer.
Loujain is a women's rights defender who peacefully campaigned for an end to the male guardianship system in Saudi Arabia and fought for women's right to drive. For this, she was convicted of trumped-up charges, including "spying with foreign parties" and "conspiring against the kingdom." 
Nearly 3 years after her arrest,  Loujain was sentenced to five years and eight months in prison, with partial suspension of two years and 10 months, including the time she had already served in detention since May 2018.
Loujain's conditional release
On 10 February 2021, Loujain was conditionally released from prison.
Despite her release from prison, Loujain is not free yet. She continues to face probation, which means she faces the risk of re-imprisonment and a travel ban of five years. In addition, she continues to be denied access to justice and accountability for her allegations of torture, and is banned from talking about her time in prison.
On 10 March, Loujain appealed her sentence, but the verdict was upheld. Loujain demanded that the regular Criminal Court investigate her claims of being subjected to acts of torture and harrassment during her detention. The Criminal Court confirmed the Public Prosecutor's decision that no torture had taken place, and effectively placing the burden of proof on Loujain. 
Email the Saudi embassy and call on them to help ensure that Loujain's sentence is quashed, that her travel ban is lifted and her allegations of torture and other ill-treatment whilst in prison are investigated. Furthermore, the Saudi authorities should ensure Loujain is able to safely continue her human rights work without intimidation or fear of prosecution.