Prime Minister: reunite children with their families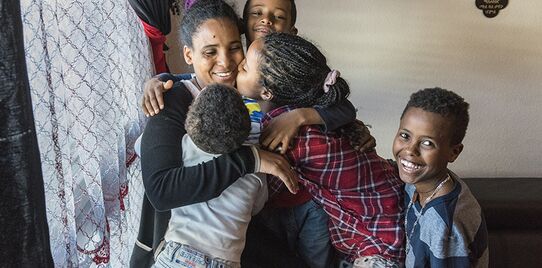 Currently, children that are refugees aren't able to sponsor their close family to join them in the UK. Tell Boris Johnson to change the rules.
Read more
Families torn apart
18-year-old Merhawi Hagos, came to the UK as a refugee from Eritrea. He was separated from his mother when he was just 14. Two years ago, he was granted asylum in the UK, but his family are still in a refugee camp in Ethiopia.
"I have found the experience of living without a family to be unbearable...I cannot plan, I cannot focus on my work or studies. I feel lonely and depressed and do not sleep well"
Unfair Home Office rules
With the threat of Covid and events like the devastating fire in the Moria refugee camp, the UK should be showing compassion towards refugees separated from their loved ones, now more than ever.
Children need their families, but Home Office rules mean many child refugees are compelled to live in the UK alone, away from their parents and siblings.
Currently adult refugees are able to sponsor their close family to join them in the UK - but child refugees are not.
Take action
With the stroke of a pen, Prime Minister Boris Johnson could change the rules.
To help get his attention, over 70 household names from film, TV and the literary world have written to the Prime Minister - but, we need your help too.
Please send the PM a message to change the rules so Merhawi and so many others like him can finally be reunited with their families and move on with her life.