End inhumane overuse of detention now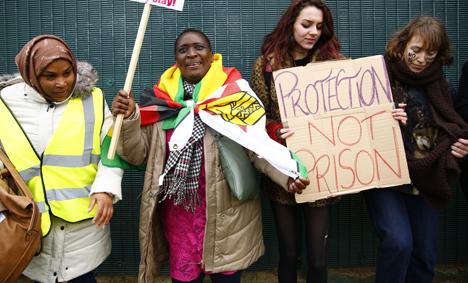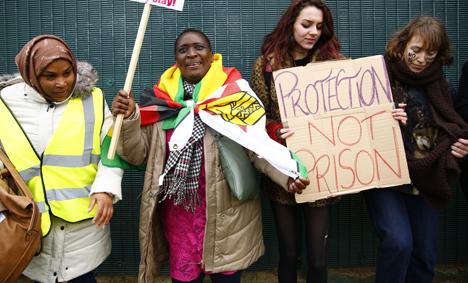 While his children were asleep upstairs, immigration officers filled Chris' home and took him away. Despite pleas from his partner he wasn't even given the chance to say goodbye. His daughter had nightmares and wet the bed because of being separated from her dad.
This is the UK and this is the human cost of our immigration detention policies that lock up tens of thousands of people. Help end this now.
End inhumane overuse of detention now
Background
What is indefinite detention?
The UK locks up thousands of people in immigration detention every year, including survivors of sexual violence and torture, and people with serious medical problems. This can have a terrible impact on their mental health.
In most cases, there is no time limit on how long someone can be detained, meaning that they have no idea when they will leave. For most, detention usually lasts no more than a few weeks, but some are held for many months and even years.
There are three types of purpose-built facility:
Detention centres, officially termed 'Immigration Removal Centres'
Short-term holding facilities
Pre-departure accommodation
How many people does the UK lock up?
The UK's has one of the largest immigration detention networks in Europe.
As many as 3,500 people can be held at one time and between July 2016 and June 2017 more than 27,000 people were detained.
It's not just adults that are in these detention centres, its women as well and in some cases there's children in there.
Elaine, Chris' partner
The Shaw Review
In 2016, Stephen Shaw published his Home Office commissioned review into the welfare of vulnerable people in detention. In his final report he called for immigration detention to be reduced considerable.
Our research shows the despite the Shaw review detention is still being used excessively in a routine way.
What do we want to see?
The government must significantly reduce its use of immigration detention; introduce a time limit for all of those detained and ensure automatic judicial oversight.
Please sign our petition and call on the government to radically transform its detention policies so more people like Chris aren't ripped from their families and thrown into chaos.
Send a message of hope
As part of our Write for Rights campaign you can also send a message of hope to someone currently behind bars. Send a message now
The human cost
UK government policy on immigration detention has led to it being used routinely, rather than as a last resort.
From our research it appears that the number of people in detention centres is mainly determined by how many centres open and close.
When they take me I didn't get to see the kids, my partner said to them can he go and say bye to the kids, they tell her no.
Chris
Psychologically for everybody especially if you have family but for the person being detained it's not healthy.
Elaine, Chris' partner
it just caused a lot of unnecessary stress. I think it's not exactly needed is it. [...] if they if they know my id, they know my address
Nwankwo
I'm sick of telling my children, "Listen, Daddy's gonna be with you soon. Daddy's gonna be with you soon."
John, detained for over a year
While locking people up is routine for the government, it has a serious long-term impact on the physical health of detainee's and their children. This long term harm also disproportionately affects women.
The right to liberty
Everyone has the human right to liberty and detention should only be used as a last resort.
The casework we saw often tried to justify keeping someone in detention unless they absolutely had to be released. This is the wrong way around.
The powers of officials to detain people for immigration purposes stem principally from the Immigration Act 1971. Detention can only be used:
in order for officials to examine a person's immigration status
in order to implement a person's administrative removal from the UK
in order to implement a person's deportation from the UK
In most instances the Immigration Act does not provide a statutory time limit on immigration detention powers. The UK courts have imposed their own framework around the notion of what is 'reasonable':
In most instances the Immigration Act does not provide a statutory time limit on immigration detention powers. The UK courts have imposed their own framework around the notion of what is 'reasonable':
A person can be lawfully detained only for a period determined to be reasonable
Detention for removal and deportation should end when it becomes apparent that there is little prospect that this will occur within a reasonable period
Home Office immigration officials are required to act with 'reasonable diligence and expedition' while the person is in detention
With very few exceptions, any adult whose case immigration officers reasonably believe fits the purposes listed in the Immigration Act may be detained, but the power to detain someone is discretionary. Immigration officials don't have to use it.
Not knowing when they might be released causes confusion and isolation. Even when they are released the experience of routine indefinite detention continues to affect them and their families for a long time, leading to anxiety – often justified – about being taken back.