STOP PROFIT FROM HUMAN RIGHTS ABUSES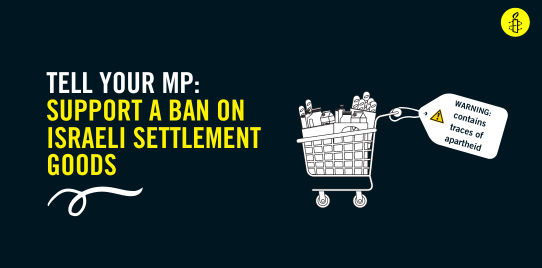 For decades, Israel has been forcing thousands of Palestinians off their land, occupying it and using it to create illegal settlements for Israeli settlers. Entire Palestinian communities have lost their homes due to these settlements, which continue to grow. We must act now.
Read more
Palestinians regularly face violent attacks by Israeli settlers. Recently, attacks against Palestinians in the village of Huwara in the occupied West Bank were reported globally. Settlers violently torched dozens of Palestinian cars, homes and orchards, killed one Palestinian and physically assaulted hundreds of others. Israeli authorities have long enabled and incited settler attacks against Palestinians - in some cases, soldiers have directly participated.
Right now, the UK is letting goods produced in settlements into our markets and allowing British companies to operate there. This legitimises the illegal settlements, which are all war crimes, and helps them expand and occupy more Palestinian land.
We want MPs to act now to stop the UK from enabling the economy that keeps these illegal settlements growing and fuels injustice against Palestinians.
Call on your MP to press for Israeli settlement goods to be banned from entering UK markets and help end the human rights violations endured by Palestinians living under the Israeli authorities' racist system of apartheid.
With Parties currently drafting their manifestos for the next general election, we must ensure they hear our demands NOW.