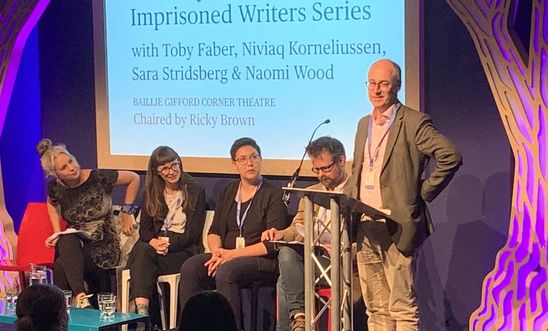 Imprisoned Writers: In a Desperate Situation - Curated by Scottish PEN
The title of today's session takes its inspiration from the last line of Daphne Caruana Galizia's final blogpost, published the day she was killed. Every day around the world writers like Daphne continue to share their words despite great personal risk. They suffer censorship, violence, imprisonment and, in some cases, death for their work. Today's readings include fiction and poetry by authors chosen by Scottish PEN.
PEN International is a not-for-profit organisation that champions freedom of speech and literature across borders.
PEN's work is more important than ever. We live in a climate of self-censorship, fear, and uncertainty that restricts how we share ideas. Communications across borders are spied on and impeded. Writers around the world are censored, imprisoned, even sentenced to death. Those who escape into exile live in perpetual displacement and struggle to find a voice.
Scottish PEN defends these writers and their freedom of expression, freedom of press, and, most importantly, freedom to critique.
Today's event is curated by Scottish PEN's Writers at Risk Committee. The Writers at Risk Committee is PEN's watchdog. They campaign for imprisoned and persecuted writers all over the world, people who are punished for saying what they think.
The writers
Ahmet Altan is a prominent Turkish journalist and author. A working journalist for more than twenty years, he has served in all stages of the profession. Ahmet was arrested in September 2016 in a dawn raid for allegedly giving subliminal messages the night before the failed coup earlier that year. Ahmet Altan remains in prison, and earlier this year was convicted for insulting the president in an article published in 2016. Despite being denied access to receiving and sending written communications, he managed to write The Writer's Paradox for publication on the eve of his trial in 2017.
Akram Aylisli is an Azerbaijani writer, playwright, novelist and former member of parliament. He was decorated by the President of Azerbaijan with the prestigious "Istiglal" and "Shokhrat" orders. Then, in 2013, after the publication of his Stone Dreams novella, which depicted the pogroms carried out by Azerbaijanis against the Armenians in Sumgait and Baku and presented Armenians in sympathetic light, President Aliyev signed a presidential decree that stripped Akram Aylisli of the title of "People's Writer" and his presidential pension. His books were burnt by Azerbaijani intelligentsia and compatriots in his hometown, his son and wife were fired from their jobs and a bounty of some $13,000 was promised for cutting the writer's ear off.
Ashraf Fayadh is an artist, poet and curator of Palestinian origin. He was arrested in 2013 on accusations stemming from his poetry collection Instructions Within and an alleged personal altercation with a man who reported him to Saudi religious authorities. In November 2015, he was sentenced to death by beheading for apostasy in relation to these charges. The death sentencene was subsequently overturned and instead an eight-year prison term with 800 lashes imposed. Ashraf Fayadh was also required to repent through an announcement in official media. He remains in prison.
Liu Xia is a Chinese poet and artist, born in 1961 and raised in Beijing. She met the writer and critic and Nobel Peace Prize winner Liu Xiaobo in the early 1980s at a literary gathering; they married in 1996 while he was serving a prison sentence. Liu Xiaobo was first jailed from 1989 to 1991 due to his involvement with the June 4th student movement. He died in custody in 2017. During Liu Xiaobo's final imprisonment, Liu Xia was subject to house arrest and 24-hour surveillance. In 2018 Liu Xia was permitted to leave China and fly to Germany for medical treatment for debilitating clinical depression.
The Imprisoned Writers Series at the Edinburgh International Book Festival 
Since 1997, Amnesty International in Scotland has shared the voices of writers whose human rights have been compromised - because they have been imprisoned, exiled or executed for exercising their freedom of expression; because they face challenges in practicing their rights in their daily lives; or because they live in a country where their rights are oppressed.
These events, known as the Imprisoned Writers Series, seek to challenge, move and inspire by sharing writing by those whose freedom of expression is threatened or denied. Each day we are joined by four of the visiting authors who graciously volunteer their time to read the words of writers who cannot be at the Festival.
The Imprisoned Writers Series exists to amplify voices – both voices that cannot be heard because their right to speak has been taken away, and also those voices that we may find uncomfortable to hear. Not all of our authors have experienced detention, but they have all had their rights challenged, and have all fought to claim their rights. 
About Amnesty UK Blogs
Our blogs are written by Amnesty International staff, volunteers and other interested individuals, to encourage debate around human rights issues. They do not necessarily represent the views of Amnesty International.
View latest posts