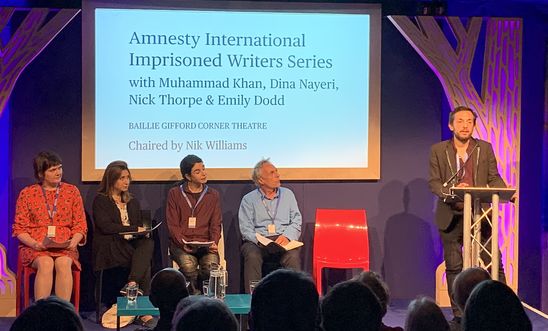 Imprisoned Writers: When the Situation is Desperate - Curated by Scottish PEN
'The situation is desperate'. These are the last words the world saw written by Maltese investigative journalist, Daphne Caruana Galizia, published the morning a car bomb blew up the car that Daphne was travelling in, only minutes from her house. Every day around the world writers like Daphne face great personal risks of death, violent attacks, censorship or imprisonment for doing their job, for informing the public and for speaking out. Today's readings include pieces of journalism and non-fiction chosen by Scottish PEN, from at-risk writers from Mexico, Malta, Northern Ireland and an Iranian/Kurdish writer detained as part of Australia's immigration process.
PEN International is a not-for-profit organisation that champions freedom of speech and literature across borders.
PEN's work is more important than ever. We live in a climate of self-censorship, fear, and uncertainty that restricts how we share ideas. Communications across borders are spied on and impeded. Writers around the world are censored, imprisoned, even sentenced to death. Those who escape into exile live in perpetual displacement and struggle to find a voice.
Scottish PEN defends these writers and their freedom of expression, freedom of press, and, most importantly, freedom to critique.
Today's event is curated by Scottish PEN's Writers at Risk Committee. The Writers at Risk Committee is PEN's watchdog. They campaign for imprisoned and persecuted writers all over the world, people who are punished for saying what they think.
The writers
Behrouz Boochani, a Kurdish Iranian journalist and filmmaker, is currently stranded on Manus Island, Papua New Guinea. The Office of the United Nations High Commissioner for Refugees has characterised the situation there as "an unfolding humanitarian emergency." He has spent nearly five years of his imprisonment typing passages of his book No Friend But The Mountains one text at a time from a secret mobile phone in prison. They form an incredible story of how escaping political persecution in Iran, he ended up trapped as a stateless person.
On 16 October 2017, journalist Daphne Caruana Galizia was murdered in a car bomb attack close to her home, attracting widespread local and international reactions. In December 2017, three men were arrested in connection with her murder. None of the three suspects have been brought to trial, and Malta's prime minister continues to block a public inquiry into the circumstances of Daphne Caruana Galizia's assassination.
Two hit men, presumed to have been hired by the drug lords, killed Mexican journalist Javier Valdez Cárdenas in 2017. He was dragged from his car in broad daylight as he left Ríodoce's offices, riddled with twelve bullets, and left dying in the street as the hitmen escaped in his car along with his laptop, mobile phone and files.
Lyra McKee was a journalist from Northern Ireland who wrote for several publications about the consequences of the Troubles. In 2016, Forbes magazine named her as one of its 30 under 30 in media because of her work as an investigative reporter. She was killed earlier this year by a stray bullet fired during a riot in Derry. Her book Angels with Blue Faces was published posthumously earlier this month. Today we will be hearing her inspiring 'Letter to my 14 year old self'.
The Imprisoned Writers Series at the Edinburgh International Book Festival 
Since 1997, Amnesty International in Scotland has shared the voices of writers whose human rights have been compromised - because they have been imprisoned, exiled or executed for exercising their freedom of expression; because they face challenges in practicing their rights in their daily lives; or because they live in a country where their rights are oppressed.
These events, known as the Imprisoned Writers Series, seek to challenge, move and inspire by sharing writing by those whose freedom of expression is threatened or denied. Each day we are joined by four of the visiting authors who graciously volunteer their time to read the words of writers who cannot be at the Festival.
The Imprisoned Writers Series exists to amplify voices – both voices that cannot be heard because their right to speak has been taken away, and also those voices that we may find uncomfortable to hear. Not all of our authors have experienced detention, but they have all had their rights challenged, and have all fought to claim their rights. 
About Amnesty UK Blogs
Our blogs are written by Amnesty International staff, volunteers and other interested individuals, to encourage debate around human rights issues. They do not necessarily represent the views of Amnesty International.
View latest posts