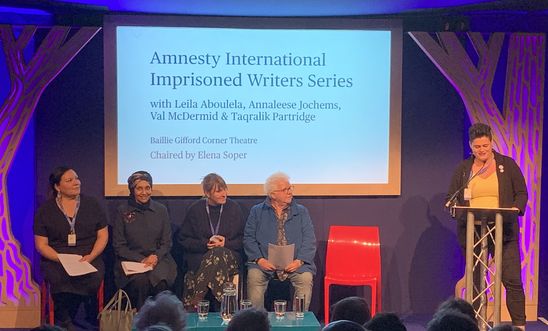 The Imprisoned Writers Series at the Edinburgh International Book Festival 
Since 1997, Amnesty International in Scotland has shared the voices of writers whose human rights have been compromised - because they have been imprisoned, exiled or executed for exercising their freedom of expression; because they face challenges in practicing their rights in their daily lives; or because they live in a country where their rights are oppressed.
These events, known as the Imprisoned Writers Series, seek to challenge, move and inspire by sharing writing by those whose freedom of expression is threatened or denied. Each day we are joined by four of the visiting authors who graciously volunteer their time to read the words of writers who cannot be at the Festival.
The Imprisoned Writers Series exists to amplify voices – both voices that cannot be heard because their right to speak has been taken away, and also those voices that we may find uncomfortable to hear. Not all of our authors have experienced detention, but they have all had their rights challenged, and have all fought to claim their rights. 
Indigenous Voices  
One of the themes of this years Book Festival is Indigenous Voices – reflecting that the UN General Assembly declared 2019 the International Year of Indigenous Languages – and a topic Amnesty International was proud to include in the Imprisoned Writers series.
The United Nations Declaration on the Rights of Indigenous Peoples affirms that
"Indigenous peoples and individuals are free and equal to all other peoples and individuals and have the right to be free from any kind of discrimination, in the exercise of their rights, in particular that based on their indigenous origin or identity."
It goes on to say that they
"have the collective right to live in freedom, peace and security as distinct peoples and shall not be subjected to any act of genocide or any other act of violence"

and

"the right to revitalize, use, develop and transmit to future generations their languages, oral traditions, writing systems and literatures."  
Today's readings reflect on the difficulties indigenous peoples can face in seeking to claim these rights.
The readings
Former Reuters correspondent in Rwanda and the eastern Democratic Republic of Congo, Jean Baptiste Kayigamba lost most of his family in the Rwandan genocide of 1994. Over the course of three months, Hutu militias murdered an estimated 80% of the Tutsi population. Haunted by memories of the massacre, he sought asylum in the UK in 2001. Today's reading was published in the New Internationalist in 2011.
2018 Nobel Peace Prize nominee Ilham Tohti was the winner of the 2014 PEN/Barbara Goldsmith Freedom to Write Award. A Uyghur economist, writer, and professor, his work promoted ethnic harmony and understanding. In February 2013, Ilham Tohti had been due to travel to America with his daughter Jewher Ilham at the invitation of Indiana University. He was prevented from travelling but urged his daughter to go on without him. She has not seen her father since that day at Beijing Airport. Today we will hear an extract from Jewher Ilham: A Uyghur's Fight to Free Her Father.            
At the annual national Race Unity Speech awards in Auckland this year, six of New Zealand's best high school speakers addressed how we can improve race relations. Year 13 Mount Albert Grammar School student Takunda Muzondiwa spoke about struggling to stay connected to her home in Zimbabwe, while trying to create a new home in Aotearoa. The speech has been viewed over half a million times on youtube.
Mehmed Uzun was a contemporary Kurdish writer and novelist. Although Kurdish was outlawed in Turkey from 1920 to 1990, he started to write in his mother tongue. As a writer, he achieved a great deal towards shaping a modern Kurdish literary language and reviving the Kurdish tradition of storytelling. He lived in exile in Sweden as a political refugee from 1977 until 2005. He then returned to Diyarbakir in Turkey where he died of cancer aged 54. Today's piece was first published in the International Journal of Kurdish Studies in January 2003.  
Take Action
If you are inspired to find out more about the rights of indigenous peoples, as well as attending events in the Book Festival Indigenous Voices strand, you may be interested in a new multimedia storypage 'Flashpoints in the Amazon' published by Amnesty International to update our ongoing work on the risk of bloodshed in the Indigenous territories of the Brazilian Amazon.  
This follows on from our initial crisis investigation in May into violent threats in the region. The update covers a significant escalation in the situation in July that saw fresh deforestation in Indigenous territories, including exclusive new satellite imagery analysis from Amnesty. It also documents the murder of an Indigenous leader allegedly by invading miners, the burning of bridges along the Trans-Amazonian highway and an arson attack on a petrol truck by illegal loggers, which prompted the deployment of troops and military police.  
If Jewher Ilham's story moved you, you can take action for Uyghur woman Buzainafu Abudourexiti who continues to be held in incommunicado detention after she was suddenly detained in March 2017 and sentenced in a secret trial to seven years in prison. There is still no information about the charges against her, but it is believed that it may be part of a wider crackdown on Uyghur students who studied abroad. Buzainafu Abudourexiti returned to China in 2015 after studying in Egypt for two years. She is at grave risk of torture and other ill-treatment.
About Amnesty UK Blogs
Our blogs are written by Amnesty International staff, volunteers and other interested individuals, to encourage debate around human rights issues. They do not necessarily represent the views of Amnesty International.
View latest posts