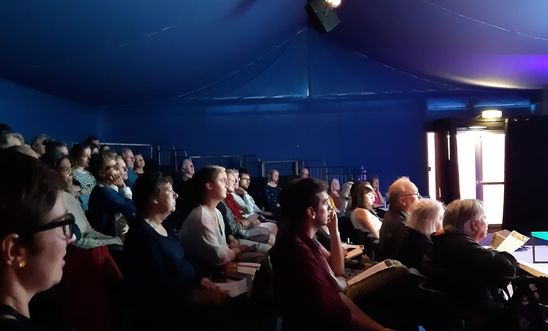 Imprisoned Writers event
Imprisoned Writers: Extraordinary Rendition 
Guantanamo Bay Naval Base, also called GTMO – an abbreviation of Guantanamo – or GITMO because the common pronunciation by the US military, is a United States military base and detention camp located on 120 square meters of land and water at Guantanamo Bay, Cuba.
The camp was established by President George W. Bush's administration in 2002 during the War on Terror. His successor, President Barack Obama, promised that he would close it, but met strong bipartisan opposition from Congress, which passed laws to prohibit detainees from Guantanamo being imprisoned in the US. During Obama's administration, the number of inmates was reduced from about 245 to 41; most former detainees were freed and transferred to other countries.
In January 2018, President Donald Trump signed an executive order to keep the prison camp open indefinitely. In May 2018, the first prisoner was transferred during Trump's term; this reduced the number of inmates to 40.
Since 2007, reports have detailed UK involvement in US extraordinary rendition. These include reports that various airports in Scotland were used in the transportation of individuals to other countries where they were illegally detained, interrogated, and in some instances tortured, including at Guantanamo.
Scottish airports reported to have been involved in rendition operations include airports in Aberdeen, Inverness, Wick, Edinburgh, Prestwick, Glasgow and Leuchars. The total number of flights that allegedly used these airports amounts to at least 107 according to the Rendition Project.
Amnesty International continues to call for an inquiry into the UK and Scotland's role in US rendition.
We are grateful to Mohamedou Ould Slahi and Mansoor Adayfi who have each chosen their own pieces and these were submitted via Professor Alexandra Moore of Binghampton University New York. Abu Zubaydah's testimony is taken from the Rendition Project, and we are grateful to Professor Ruth Blakely of Sheffield University for her support.
The writers
Abu Zubaydah was captured in 2002 alongside more than 30 others in a joint US-Pakistani raid on safe houses in Faisalabad, Pakistan. He went on to spend 1619 days in CIA custody, during which he endured sustained torture. He remains in Guantanamo, fighting for his right to testify.
Mansoor Adayfi is a former Guantanamo detainee and writer, having been shipped to the military prison at 19 years old and spent 15 years detained without charge. His work has been published on numerous platforms including the New York Times, CBC Radio, and BBC Radio – where he narrated an award-winning documentary on art in Guantanamo. He is currently working on a memoir of his time as a detainee.
Mohamedou Ould Salahi is a writer and an electrical engineer. He was wrongfully detained from his home country of Mauritiania and spent 15 years in detention, before being released without charge in 2016. His book, Guantanamo Diary, was the first to be written by a detainee in the military prison, and has been published in 25 languages.
Take Action
If you found today's readings interesting, please visit www.therenditionproject.org.uk for more information.
If you have been inspired to take action, you can support our colleagues at Amnesty USA who continue to demand that the military prison at Guantanamo Bay be closed, especially in the light of President Trump revoking President Obama's closure order.
In Scotland, we await further information about the investigation into rendition flights. To keep up to date with Amnesty in Scotland, you can follow our social media channels @Amnesty Scotland
The Imprisoned Writers Series at the Edinburgh International Book Festival 
Since 1997, Amnesty International in Scotland has shared the voices of writers whose human rights have been compromised - because they have been imprisoned, exiled or executed for exercising their freedom of expression; because they face challenges in practicing their rights in their daily lives; or because they live in a country where their rights are oppressed.
These events, known as the Imprisoned Writers Series, seek to challenge, move and inspire by sharing writing by those whose freedom of expression is threatened or denied. Each day we are joined by four of the visiting authors who graciously volunteer their time to read the words of writers who cannot be at the Festival.
The Imprisoned Writers Series exists to amplify voices – both voices that cannot be heard because their right to speak has been taken away, and also those voices that we may find uncomfortable to hear. Not all of our authors have experienced detention, but they have all had their rights challenged, and have all fought to claim their rights. 
About Amnesty UK Blogs
Our blogs are written by Amnesty International staff, volunteers and other interested individuals, to encourage debate around human rights issues. They do not necessarily represent the views of Amnesty International.
View latest posts