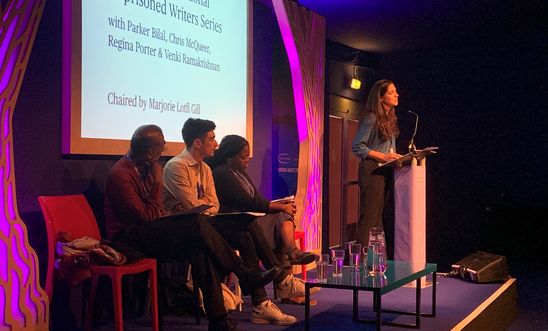 The Imprisoned Writers Series at the Edinburgh International Book Festival
Since 1997, Amnesty International in Scotland has shared the voices of writers whose human rights have been compromised - because they have been imprisoned, exiled or executed for exercising their freedom of expression; because they face challenges in practising their rights in their daily lives; or because they live in a country where their rights are oppressed.
These events, known as the Imprisoned Writers Series, seek to challenge, move and inspire by sharing writing by those whose freedom of expression is threatened or denied. Each day we are joined by four of the visiting authors who graciously volunteer their time to read the words of writers who cannot be at the Festival.
The Imprisoned Writers Series exists to amplify voices – both voices that cannot be heard because their right to speak has been taken away, and also those voices that we may find uncomfortable to hear. Not all of our authors have experienced detention, but they have all had their rights challenged, and have all fought to claim their rights. 
Saturday 10 August - Words of Comfort
All over the world people are persecuted or imprisoned for writing critically about their government or country. Today's event looks at how books and writing can provide comfort, succour and solidarity when you are fighting for your rights.
As readers, and writers, we all know the power of the written word: It can transport us to another time and place, into the skin of another being, allow us to feel a shared reality and to experience circumstances we might never encounter in our daily lives.
Removing the right to read, write or share books is just one way that authoritarian regimes can punish those they seek to persecute. Words are powerful and can be seen as a threat.
It can also be alienating to never read about people like yourself, to never encounter a character who faced the same challenges you confront.
Conversely, reading can provide a means of understanding a situation that we might struggle to come to terms with. By seeing the world through the eyes of another, we can develop awareness and empathy, including for those who may be denied their rights, fighting for their rights or suffering the consequences of their rights not being respected.
Today's readings reflect on how it feels to be denied words, the comfort that words can bring, and the empathy and understanding that words can help us develop.
The readings
Born to Have a Body - Tahar Djaout (extracted from the novel The Last Summer of Reason)
Wood Sprites - Ahmet Altan (extracted from the memoir I Will Never See the World Again)
I Do Not Wish for You to See Gaza as Anything but a Rose - Hadaya Shamun (published on ArabLit)
Trans Day of Visibility - Casey Plett (published at Powells.com)
The authors
On Wednesday March 26, 1993, Algerian journalist Tahar Djaout was shot in the parking lot of his apartment – two bullets in the head. After eight days in a coma, he died on June 3, 1993, at the age of thirty-nine, leaving behind a widow and three little girls.
Ahmet Altan is one of Turkey's most important writers. In the purge following the failed coup in July 2016, Altan was sent to prison pending trial for giving 'subliminal messages' in support of the coup. In February 2018, he was sentenced to life in prison without parole for attempting to overthrow the government. Fifty-one Nobel Laureates have signed an open letter to President Erdogan calling for Altan's release. The author of seven essay collections and ten novels, Altan's most recent work, I Will Never See the World Again, is a memoir smuggled from the prison in which Ahmet is serving his life sentence.
Hedaya Shamun is a Gazan based author and activist.
Casey Plett wrote the novel Little Fish, the short story collection A Safe Girl to Love, and coedited the anthology Meanwhile, Elsewhere: Science Fiction and Fantasy From Transgender Writers.
About Amnesty UK Blogs
Our blogs are written by Amnesty International staff, volunteers and other interested individuals, to encourage debate around human rights issues. They do not necessarily represent the views of Amnesty International.
View latest posts