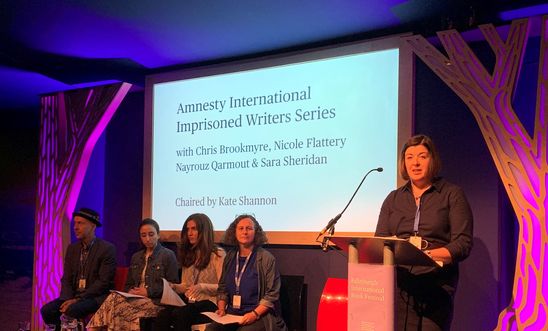 The Imprisoned Writers Series at the Edinburgh International Book Festival 
Since 1997, Amnesty International in Scotland has shared the voices of writers whose human rights have been compromised - because they have been imprisoned, exiled or executed for exercising their freedom of expression; because they face challenges in practicing their rights in their daily lives; or because they live in a country where their rights are oppressed.
These events, known as the Imprisoned Writers Series, seek to challenge, move and inspire by sharing writing by those whose freedom of expression is threatened or denied. Each day we are joined by four of the visiting authors who graciously volunteer their time to read the words of writers who cannot be at the Festival.
The Imprisoned Writers Series exists to amplify voices – both voices that cannot be heard because their right to speak has been taken away, and also those voices that we may find uncomfortable to hear. Not all of our authors have experienced detention, but they have all had their rights challenged, and have all fought to claim their rights. 
Gaza: 'The World's Largest Prison'

 
The Israeli occupation of Palestinian territory (the West Bank including East Jerusalem and the Gaza Strip) is in its fifth decade and the undercurrent of violence and inherent abuses of fundamental human rights and disregard for international law inherent in any long-standing military occupation is presented by both sides. Both Israeli and Palestinian civilians continue to bear the brunt of the violence in the region.
Since 2007, Gaza has been subject to an illegal blockade with restrictions on the movement of people and goods into and from the area, collectively punishing Gaza's entire population. Combined with Egypt's almost total closure of the Rafah border crossing, and the West Bank authorities' punitive measures, Israel's blockade is perpetuating a humanitarian crisis.
In addition to the blockade, there have been a series of violent attacks: Operation Cast Lead in 2008, Operation Returning Echo in March 2012, and in October the same year, Operation Pillar of Defence. In 2014, Operation Protective Edge was a 50-day conflict that resulted in the deaths of over 2000 Palestinians and 71 Israelis.
In 2015 a UN report warned that Gaza would be unfit for human habitation by 2020. The electricity supply was disrupted, the water close to being undrinkable, unemployment soaring and construction efforts delayed. Many patients with life-threatening illnesses are unable to access treatment outside Gaza due to Israeli restrictions and delays by West Bank authorities in processing referrals. Economic disparities between the two peoples are enormous. GDP per capita in Israel in 2015 was $37,700, in the West Bank $3,700 and in Gaza, $1,700.
As one of today's authors, Atef Abu Saif tells us in his introduction to the Comma Press publication The Book of Gaza: "Literature has been the living voice of the Palestinian struggle, in the face of being uprooted, displaced, and occupied."
Today, we share with you some examples of the powerful essays and fiction written by Gazan authors.
The readings
Atef Abu Saif was born in the Jabaliya refugee camp in the Gaza Strip in 1973. He is the author of several books, two short story collections and a memoir: The Drone Eats with Me. He is a regular contributor to Palestinian and Arabic newspapers and journals. Today we are sharing an essay he wrote for the New York Times: Why I Stay In Gaza
Gazan author Hedaya Shamun works as a Researcher in Women's Affairs. The Taste of Coffee in Gaza was published by ArabLit.org
Talal Abu Shawish was born in Nuseirat Refugee Camp in 1967 and is currently Assistant Director of the Boys Preparatory School for Refugees in Gaza. He has published three novels and several short story collections. Red Lights is taken from Comma Press's Book of Gaza. It was translated by Alice Guthrie.
Rawan Yaghi is a twenty-five-year-old Palestinian from Gaza. Rawan started writing in English after the 2008−9 'Operation Cast Lead' offensive on Gaza, as did many young Gazan writers who wanted to ensure their words were understood internationally.  She began her studies in English Literature at the Islamic University of Gaza, then transferred to the University of Oxford. Spared is published in Gaza Writes Back: Short Stories from Young Writers in Gaza, Palestine.
About Amnesty UK Blogs
Our blogs are written by Amnesty International staff, volunteers and other interested individuals, to encourage debate around human rights issues. They do not necessarily represent the views of Amnesty International.
View latest posts