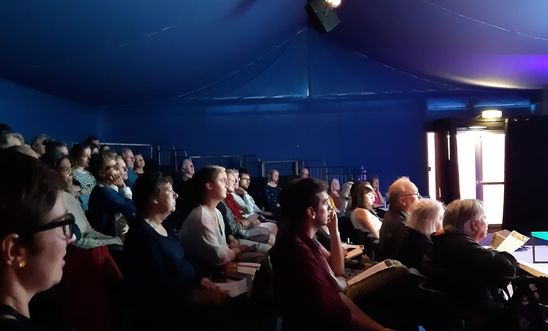 Imprisoned Writers event
Imprisoned Writers: Published from Prison 
Since 2016 Turkey has been the biggest jailer of journalists in the world. The threat of criminal investigations, prosecutions and imprisonment pending trial has had a chilling effect on the media, with the vast majority of the mainstream media supporting the government in their reporting.
After two years of rapid deterioration in the human rights situation, Turkey's state of emergency finally ended on 18 July 2018. This long overdue and welcome news, however, was not accompanied by concrete steps to normalize the human rights situation in the country. Instead, many of the measures introduced during the state of emergency remain in force today and continue to have a profound and devastating impact on public life in Turkey.
The state of emergency was used to consolidate draconian government powers to silence critical voices and strip away fundamental rights and freedoms. Far from being reversed, many of these measures have continued unabated since the end of the state of emergency.
Since 18 July 2018, the Turkish authorities have continued to target different groups in society under various provisions in order to crack down on dissent and maintain a climate of fear. Human rights defenders and trade union representatives have been rounded up in successive waves of detentions. As many as 123 journalists and other media workers remain in prison while many university students are on trial facing terrorism related charges for merely expressing dissenting views or participating in peaceful protests.
As of December 2018, the total number of detainees in prison without an indictment or pending trial is 57,000; over 20% of the total prison population. 44,690 people are in prison for "terrorism" related charges. These include journalists, political activists, lawyers, human rights defenders, and the two authors we will be hearing read today.
Amnesty International is asking the international community to ensure that all political dialogues and bilateral discussions with Turkey are used to raise concern over the human rights situation.
There is no clearer example of the inspiration behind the Imprisoned Writers series than two of the political prisoners being held in Turkey who this year have published new works to critical acclaim. Works that would have seen them invited to Edinburgh. In their absence, today we share their stories and give voice to their writing.
The writers
Imprisoned in a maximum-security jail since November 2016, Selahattin Demirtaş continues to advocate for the people of Turkey as an author and a politician. He wrote and published Seher (Dawn) in 2017 and ran for President in 2018, both from behind bars. From 2014 to 2018 he was the co-leader of the People's Democratic Party (HDP), a left-wing pro-Kurdish party with an emphasis on progressive values, feminism, and LGBTQ rights. You can read a story from the collection here.
Ahmet Altan is one of Turkey's most important writers. In the purge following the failed coup in July 2016, Altan was sent to prison pending trial for giving 'subliminal messages' in support of the coup. In February 2018, he was sentenced to life in prison without parole for attempting to overthrow the government. Fifty-one Nobel Laureates have signed an open letter to President Erdogan calling for Altan's release. The author of seven essay collections and ten novels, Altan's most recent work, I Will Never See the World Again, is a memoir smuggled from the prison in which Ahmet is serving his life sentence. Today we will hear his essay written to mark World Press Freedom Day and an extract from The Novelist Who Wrote His Own Destiny. 
Take Action
President Erdogan continues to clamp down on freedom of expression in Turkey. Since 1995, the relatives of numerous "desaparecidos", who disappeared during the Kurdish conflict in Turkey, ask for justice and truth in Galatasaray Square. Last summer these sit-ins by the 'Saturday Mothers' were banned.
You can take action to ask President Erdogan to lift the ban on the Saturday Mothers protests, and to keep the promise he made in 2011 to investigate the disappearances.
The Imprisoned Writers Series at the Edinburgh International Book Festival 
Since 1997, Amnesty International in Scotland has shared the voices of writers whose human rights have been compromised - because they have been imprisoned, exiled or executed for exercising their freedom of expression; because they face challenges in practicing their rights in their daily lives; or because they live in a country where their rights are oppressed.
These events, known as the Imprisoned Writers Series, seek to challenge, move and inspire by sharing writing by those whose freedom of expression is threatened or denied. Each day we are joined by four of the visiting authors who graciously volunteer their time to read the words of writers who cannot be at the Festival.
The Imprisoned Writers Series exists to amplify voices – both voices that cannot be heard because their right to speak has been taken away, and also those voices that we may find uncomfortable to hear. Not all of our authors have experienced detention, but they have all had their rights challenged, and have all fought to claim their rights. 
About Amnesty UK Blogs
Our blogs are written by Amnesty International staff, volunteers and other interested individuals, to encourage debate around human rights issues. They do not necessarily represent the views of Amnesty International.
View latest posts