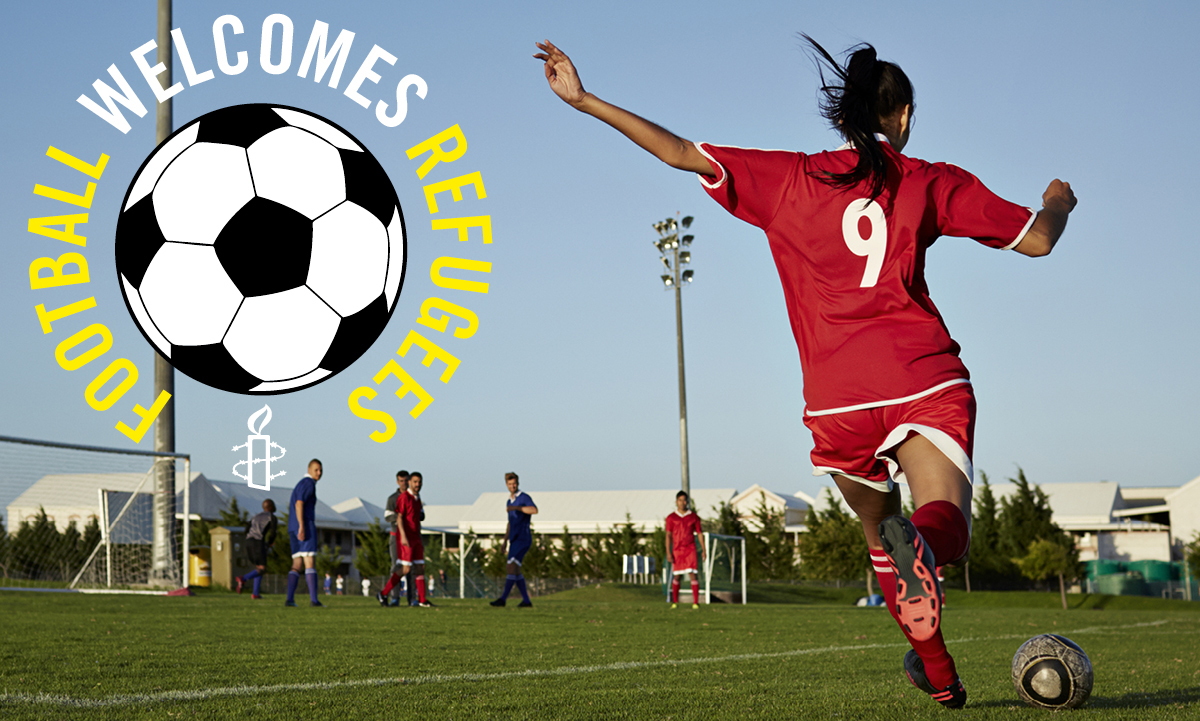 ⚽Football Welcomes - Good Practice Guide ⚽ 
Football Welcomes: not just a boys club
Amnesty's Football Welcomes programme, which aims to create more welcoming communities for refugees and people seeking asylum, has gone from strength to strength over the last few years. Over 170 clubs, from all levels of the game, took part in the most recent Football Welcomes weekend. More clubs, trusts, foundations and County FAs have set up football sessions with refugees.
These sessions promote fitness and good mental health, help people make friends and connections, and welcome them into the community. But they are usually targeted at men and boys. 
Refugee women in football: a good practice guide
Our new guide and training, will help football coaches, and anyone else interested in this topic, to develop the knowledge and skills they need to ensure that refugee women and girls have equal opportunities to participate in our national sport and to benefit from everything it has to offer.
The good practice guide is a document that will help coaches, clubs and their foundations, county FAs, and other grassroots initiatives to set up football sessions for women and girls from refugee and asylum seeking backgrounds.
Our aim is to create a more welcoming environment through football, working together to help refugees and people seeking asylum develop a sense of belonging as they settle into new communities in the UK. Football inclusion sessions have traditionally been tailored to men and boys, but we want women and girls to be at the heart of this work.
For women and girls who have fled conflict or persecution only to find themselves isolated in a new country and culture, becoming part of the local football community can be a life-changing experience.
The guide is a collaboration with the English FA and covers key terms and definitions, top tips and good practice, and most importantly the 5 core elements to setting up a successful and sustainable session in their local community.
⚽Webinar training session ⚽ 
The session is an introductory training course on the key knowledge and skills needed to engaging refugees and people seeking asylum into football. It is designed for coaches, clubs and foundations/trust across the country. From the guide research process, we've identified that there's a gap in training/education on this particular community for those delivering sessions. The training will be a 1hr30 min interactive webinar, built off the good practice guide and will focus on women and girls specifically. This also includes an interactive workbook for maximum engagement.
Date and time: 21/01/21, 19.30-20.20 GMT
Register here.
⚽ The Football Welcomes Month ⚽
Football Welcomes 2019 was the biggest celebration ever of refugees and football in the UK.
This map shows the participating clubs. Did your team take part? 🤔 
Football Welcomes is part of Amnesty International's I Welcome campaign for a better international response to the global refugee crisis. The campaign encourages local communities to work together to create a more welcoming environment for people fleeing conflict and persecution.

Want to get your local football club involved? Find out how here.
Supported by the players of: