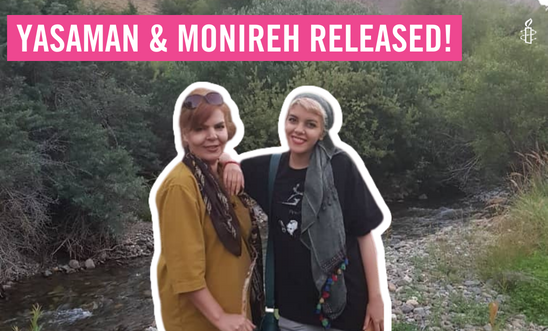 Yasaman Aryani and Monireh Arabshai released
As an act of peaceful protest against forced veiling laws, women's rights defenders Monireh, Yasaman and Mojgan handed out flowers to female passengers on a metro train in Tehran in Iran
The unveiled women were filmed sharing their hopes for a future where all women in Iran would have the freedom to choose what to wear.
 
Days after the video went viral on social media, they were charged with sham offences including 'inciting prostitution' for choosing not to wear veils and were sentenced to 31 years 8 months in prison between them.
An incredible 235,000 of you signed the petition demanding their release. Mojgan was released from prison early last year, and on 15th February 2023, Yasaman and Monireh were also released.
As they left prison, they hugged loved ones and chanted "Woman, Life, Freedom" - the slogan of the protest movement in Iran that followed the killing of Mahsa Amini.
Thank you to all of you who signed the petition, shared the campaign with networks and helped fight for their freedom.
Share the good news:
GOOD NEWS🎉

This week Yasaman & Monireh were released after nearly 4 years in prison in Iran. They were unjustly behind bars for handing out flowers on a train in peaceful protest against forced veiling laws.

Thank you all who campaigned for their freedom ✊🌺 #WomanLifeFreedom pic.twitter.com/lg5b7JHyNQ

— Amnesty UK (@AmnestyUK) February 17, 2023