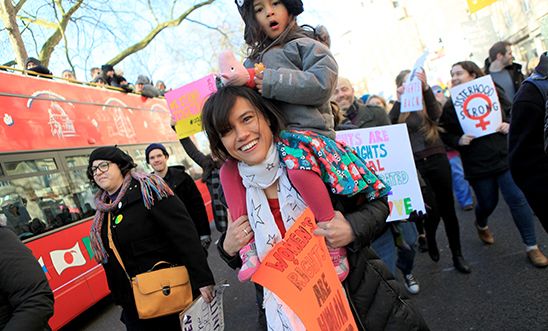 © Marie-Anne Ventoura
An estimated 100,000 people turned out onto the streets of London on 21 January for the Women's March, joining millions across the world in a day of global action and solidarity for women's rights and human rights.
The London march, which took place the day after the inauguration of Donald Trump, mirrored a major demonstration in Washington DC and was one of 673 sister marches in 60 countries, from the Arctic peninsula to Zimbabwe, with an estimated global turn out of nearly five million.
We supported the London march, along with organisations such as Black Pride, Fawcett Society, Solidarity with Refugees, Women of the World, Women 4 Refugee Women, 50:50, Women in Leadership, Women for Women International (UK) and Women's Aid.
'The women's marches all around the world on Saturday were an incredibly important moment in the fight for women's rights and show again what women can do when we organise and mobilise. I am immensely proud that Amnesty International was part of it. But this is more than a moment. This is a movement, and people of all genders, all ages and all backgrounds are coming together to take action against attacks on human rights and women's rights.'

Kate Allen, Director of Amnesty International UK
"I am stronger than fear" Malala @AmnestyUK standing up for women's rights #WomensMarch pic.twitter.com/W63wgikMEd

— Jane East (@Jane_East2002) January 21, 2017
We are here and it's awesome! #WomensMarch @AmnestyUK pic.twitter.com/yBTBCpkdKl

— MeeraSyal (@MeeraSyal) January 21, 2017
Smashing the patriarchy with a million others at Womens March London #womensmarch #womensm… https://t.co/eTtIb0K9HC pic.twitter.com/zixnC1AvUW

— Laila ? (@tapeparade) February 5, 2017
Be a part of the resistance
From the women's marches around the world to the lawyers and protesters turning up at airports across the US to support those detained because of the travel ban - the resistance has shown its strength. When we stand together, we're more than just individuals: we're a powerful movement of people of all genders, all ages and all backgrounds.
Sign up to Trump Watch for breaking news, expert analysis and urgent actions you can take to fight President Trump's assault on human rights around the world.