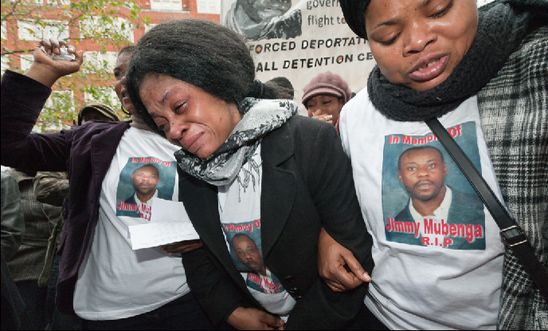 Family and supporters of Jimmy Mubenga march to demand a full inquiry in 2010 © Peter Marshall / Demotix
From July 2014 private security contractors deporting people from the UK must be trained in safer restraint methods after the UK Government have adopted our recommendations.
We have been urging the UK Government to overhaul the current system, following the death of Jimmy Mubenga in 2010, so they meet their legal obligations to protect individuals against human rights abuses.
Jimmy died at Heathrow Airport during his attempted removal from the UK to Angola in October 2010. Three G4S guards involved in Jimmy's enforced removal were arrested after his death but in 2012 the Crown Prosecution Service decided not to bring any charges. That decision was reviewed by an inquest into Jimmy's death in 2013 where, after an eight week hearing, the jury returned a verdict of unlawful killing. In March 2014 the three G4S guards were charged with manslaughter. 
We have warned of the dangers of the improper control and restraint techniques routinely used by private security companies contracted by the UK government. We submitted evidence to the Home Affairs Committee in May 2011 for their inquiry: Rules governing enforced removals from the UK. In July 2011 we published a report Out of Control (pdf) that highlighted serious failings in the training of contractors, including staff being taught techniques unsuitable for use on planes.
The Home Office accepted all of the recommendations from the Independent Advisory Panel's report and new training for deportation escort staff begins on 28 July 2014.
Key recommendations include:
Reforming the framework for assessing escort staff competence
Extending the use of body worn cameras to the escort process, including pre-boarding of a flight
Independent monitoring of the new training programme
The use of force should be kept at a minimum and staff should avoid restraint tactics, unless absolutely necessary
To avoid the use of restraint adopting a use of force minimisation strategy and where force is deemed necessary it should be reasonable and proportionate
A governance structure for reviewing every incident in which force is used.