Team Refugees make history at Rio 2016
This summer, for the first time ever, ten refugee athletes competed on the world's stage at the Olympic Games in Rio de Janeiro, Brazil.
Forced by war and persecution, these athletes lost their homes in search for safety. Now, they will come together to compete as Team Refugees at the world's biggest sporting event. We believe they are a symbol of hope for refugees worldwide, no matter where they're from.
Yusra's story
One of the team members, Yusra Mardini, won her 100m butterfly heat but Yusra is a hero in more ways than one. Not only is she a world-class swimmer, but she and her sister swam for three hours pushing the sinking boat they were in to safety, helping to save the lives of 20 people.
The motorised dinghy had begun to fail only 30 minutes into their journey from Turkey to Lesbos, after they were forced to flee their home in Syria.
Popole's story
Popole Misenga was just nine years old when he fled fighting in Kisingani, in the Democratic Republic of the Congo. Separated from his family, he was rescued after eight days in the forest and taken to the capital, Kinshasa. There, at a centre for displaced children, he discovered judo.
'When you are a child, you need to have a family to give you instructions about what to do, and I didn't have one. Judo helped me by giving me serenity, discipline, commitment – everything.'
Popole became a professional judoka, but each time he lost a competition his coach locked him in a cage for days with only coffee and bread to eat. 
Finally, at the 2013 world championships in Rio, where he was deprived of food and knocked out in the first round, he decided to seek asylum.
'In my country, I didn't have a home, a family or children. The war there caused too much death and confusion, and I thought I could stay in Brazil to improve my life.'
After gaining refugee status, Popole began training with Flavio Canto, an Olympic bronze medallist.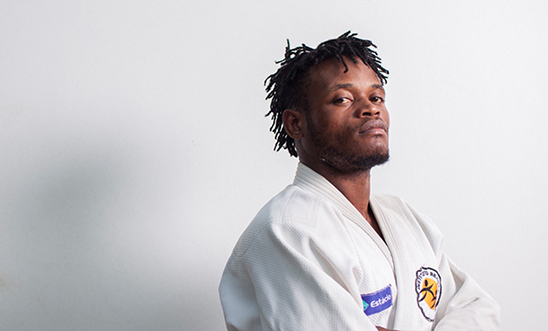 Taking the Olympics to Kakuma
We worked with FilmAid to bring the Games to Kakuma refugee camp in Kenya. Kakuma is home to around 185,000 people fleeing from war and persecution. Six of ten Team Refugee members came from Kakuma, so their friends and families were able to cheer them on for the duration of the Games.