Royal Parks Half Marathon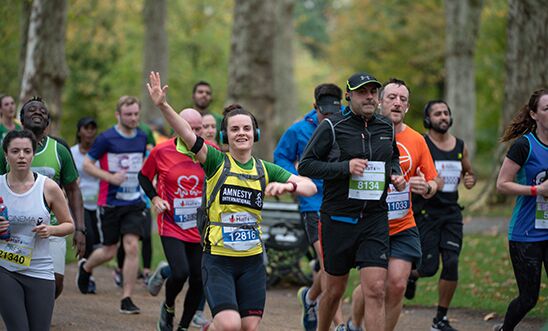 Be part of something special and support Amnesty International at the return of the Royal Parks Half Marathon in October 2021!
The Royal Parks Half Marathon - Sunday 10 October 2021
In October, we have the return of the physical event, and you can sign up below to be a part of our team.
Date: Sunday 10 October 2021
Distance: 13.1 miles (21km)
Location: London
Minimum fundraising target: £350
Registration fee: £30
Minimum age: 17
Sign up for the Royal Parks Half Marathon Sunday 10 October 2021
The 13.1 mile run will take you through London's four stunning Royal Parks - Hyde Park, Kensington Gardens, St James' Park and Green Park - while you help us to fund vital human rights work around the world.
This half marathon event isn't just for runners - there's an ever-growing food and fitness festival for both supporters and participants, along with activities to keep children entertained. So, bring along the whole family and they'll be kept entertained all day!
Whether you're new to running or want to give yourself something to work towards, this is a great running challenge. This is one of the most environmentally and family-friendly half marathons out there and we'd love for you to enjoy it with Team Amnesty.
If you've already got a place on the Royal Parks Half Marathon and would like to run for human rights, we'd love to have you on our team! There's no minimum fundraising target, just raise as much as you can. Click here to join the team with your own place.
How we'll support you
Support on the day - you will be cheered on as you pass by the two Team Amnesty cheer points to give you that extra motivation. Once it's all over we'll be there to congratulate you in the charity festival area – snacks and sports massage at the ready!
As a member of our team you'll receive:
A personalised running vest
A sports massage at the end of the event 
A fundraising pack filled with advice and ideas
One to one fundraising and training support
Fundraising and event materials like collecting tins, posters, badges etc
Regular updates on the event and on our human rights successes
An experienced and dedicated Community and Events Fundraising team with loads of advice and support to offer
 
Signed up to run? Get fundraising
    Create a JustGiving Page            Create a VirginMoneyGiving page
Get in touch
If you have any questions about this event, please contact David Blakeley, our Events Fundraiser.
Email: team@amnesty.org.uk
Phone: 020 7033 1646