Virgin Money London Marathon 2021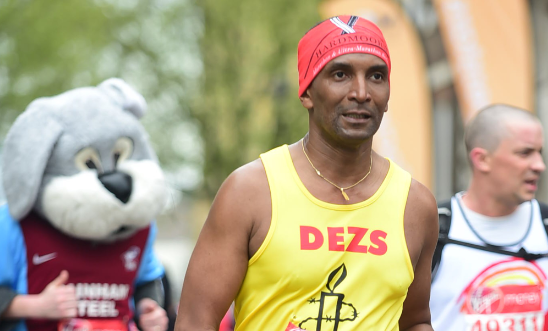 Run one of the world's most-loved and best-known marathons for human rights.
Date: Sunday 3 October 2021
Distance: 26.2 miles
Location: London
Minimum fundraising target: £2000
Registration fee: £100
Minimum age: 18
Fitness requirements: All fitness levels but commitment to a suitable training plan is essential.
Run the Virgin Money London Marathon 2021 for human rights
It's back! The ultimate marathon in the international circuit is set to return to the streets of London in 2021. Tens of thousands of runners will pound the streets of London and, we hope, will once again be cheered on by crowds as the race is broadcast live around the world.
How to join our team
1. Use your own ballot place to run for Team Amnesty
If you manage to secure a ballot place in the Virgin Money London Marathon 2021, we'd love to have you on our team. You'll receive the same level of support from us as our charity place runners and you can set your own fundraising target.
​​​​​​2. Join our waiting list for a Team Amnesty Charity Entry
Due to the cancellation of the 2020 event, our limited number of charity entries for 2021 are currently all allocated to deferred runners. It's possible that places may become available at a later date so please register your details to be placed on our waiting list.
Join our Virtual London Marathon team. If you can't make it for the main event, you could join our virtual team instead.
How we'll support you
Whether you run on one of our prized charity places or are successful in the ballot, we'll support you every step of the way. Join Team Amnesty and you'll get:
Fundraising pack with tons ideas to help you reach your target
Team Amnesty running vest, which you can add your name to
Amnesty materials on request
Access to a private Team Amnesty Facebook group to share tips with your fellow team mates
Regular newsletters
Support from the Amnesty events team (who are runners and cyclists themselves!)
Dedicated member of staff for one-to-one support
Cheerers to support you on the day (COVID restrictions permitting)
Team Amnesty marathon reception with lunch and a sports massage (COVID restrictions permitting).
We know the commitment that running a marathon entails and will do everything we can to help you fulfil this incredible challenge. Amnesty International UK couldn't exist without people like you, supporting others around the world denied their human rights.
Get in touch
If you have any questions about this event, please contact the Community and Events Fundraising team.
Email: team@amnesty.org.uk