Parachute jumps and skydives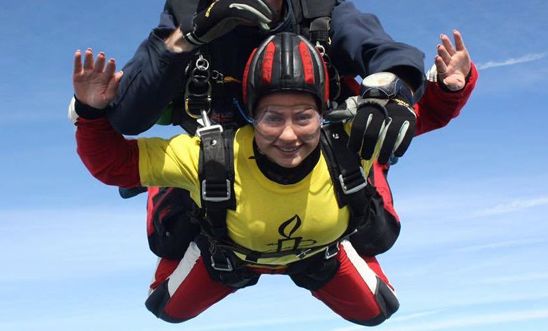 Amelia Abbott skydives for Amnesty, September 2016 © Private
There is nothing quite as liberating and exciting as throwing yourself out of a moving plane, especially when you're doing it to raise money for human rights.
We have over 20 locations for you to choose from across the UK.
Fulfil your dream of flying, enjoy the breath-taking views from a unique perspective, experience the unparalleled feeling of euphoria and thrill, conquer your fears and feel empowered, let go, have some epic photos as proof of your experience, earn endless bragging rights amongst your friends and family, all for FREE (well, as long as you raise some money for our vital human rights work)!
Tandem skydive
Tandem skydiving allows you to experience the thrill of freefall, followed by the quiet serenity of a surreal canopy descent, without any significant training.
•    The easiest and most popular of all skydives
•    The BPA (British Parachute Association) qualified tandem instructor does all of the hard work for you, so you can enjoy the moment
•    Jump from over 10,000 feet at up to 120 mph
•    FREE if you raise £395
Solo static line jump
A static line parachute jump is the very first step to becoming a certified skydiver. The jump involves 1 day of training at the airfield before you complete a solo jump from around 3,000 feet. Although the jump out of the aircraft is performed solo, there will be no freefall as your parachute will be pulled automatically once you leave the aircraft.
•    Jump solo under professional supervision
•    British Parachute Association certificate
•    Jump from over 3,000 feet
•    FREE if you raise £360
Solo accelerated freefall
The Accelerated Freefall Level 1 course is the quickest way to become a solo skydiver! It requires 1 day of training before you get taken up to a height of 10,000 feet to complete a solo skydive. Two fully qualified instructors will be with you every step of the way, however, you will be responsible for pulling your own parachute. After completing this jump, you will be cleared to complete the full course and will be well on your way to becoming a fully qualified skydiver.
•    Solo skydive after 1 days training
•    Quickest way to become a qualified skydiver
•    Jump from 10,000 feet at up to 120 mph
•    FREE if you raise £535
Feeling ready to take the plunge? Sign up here
Still thinking about it? Register your interest here or contact our Community Fundraising Coordinator who can provide you with further information. We will be more than happy to assist you with any questions or queries you may have.
Email: team@amnesty.org.uk
Phone: 020 7033 1646