Parachute jumps and skydives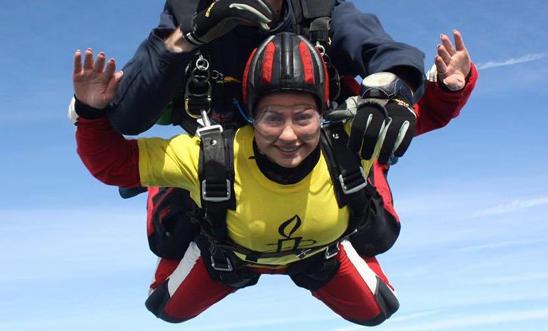 Amelia Abbott skydives for Amnesty, September 2016 © Private
This is your chance to experience the thrill and adrenaline of dropping thousands of feet through the air, while supporting us to deliver vital human rights-defending work around the world.
We've got a range of jumps – from big heights in a tandem dive, to solo freefalls from a slightly lower distance. And each one is free for you to do, as long as you raise a little bit of cash for human rights.
Thinking about it? Register your interest now and we'll send you information
Ready to do it? Sign up to jump with us
Tandem skydive
Jump from over 10,000 feet - just like the professionals!
One day training and jump
Harnessed to an experienced instructor at all times
£395 minimum sponsorship target
You'll step out into thin air, while over two miles from the ground! Freefalling at over 120 miles an hour, your instructor will activate your parachute after a few thousand feet, and you'll sail to earth.
This is the jump that the professionals do - and you have to be a qualified freefall parachutist to do it on your own! You can get the same experience in a safe set-up, harnessed to an instructor for the duration of the jump.
Solo static line jump
Jump solo from up to 3,000 feet, under professional supervision
Two-day training and jump
The first step towards qualifying as a skydiver
£360 minimum sponsorship target
This is for the daredevils who want to drop without an instructor! You'll jump out of the aircraft attatched to a 'static line', which will automatically open your parachute for you. 
You'll train for one full day, and embark on your jump the following day. Training and completing the static line jump is the first step in becoming a fully qualified skydiver - and you'll get a British Parachute Association certificate to prove it!
Solo accelerated freefall
Jump from over 10,000 feet on your own - just like the professionals!
Two-day training and jump
Complete the first level of a professional skydiver's course
£535 minimum sponsorship target
This jump is the biggie. You'll train for one day, and on the second day you'll launch yourself out of an aircraft from over 10,000 feet. You'll do the jump solo, although two qualified instructors will jump alongside you and be by your side until you release your parachute.
Your full day's training ahead of your jump will earn you an accelerated freefall certificate (AFF Level 1) - the first part of a professional skydiver's course.
Get in touch
David Blakeley, our Community Fundraising Coordinator, will be happy to answer any questions you might have about parachuting or skydiving with Amnesty, or if you think you're ready to take the plunge, you can sign up here.
Email: team@amnesty.org.uk
Phone: 020 7033 1646