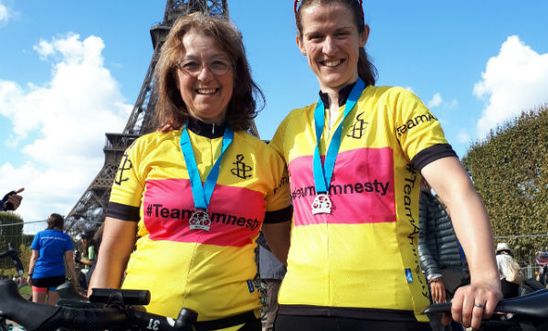 Date: 25th – 29th July 2018 or 12th - 16th September 2018
Distance: 300 miles over four days
Location: London - Paris
Minimum fundraising target: £1,650
Registration fee: £125
Minimum age: 18
Make this the year you take on the memorable and life-affirming cycle challenge - and do it for human rights.
It's pedaling over the rolling hills of Surrey and Kent. It's whirring along country roads in Northern France. It's new friendships and camaraderie when you puncture. It's pushing yourself to new limits. It's arriving in Paris, exhausted but exhilirated, at the end.
It's the adventure of a lifetime. And it's all for human rights change.
You don't need to be superhuman to cycle from London to Paris. You do need determination and a sense of adventure. After that, it's an achievable challenge that will create lasting memories - and directly fund our research and campaigns to protect human rights.
This challenge takes place over five days (four nights) - starting and ending in London.
You'll meet your group and set off from South London, cycling through beautiful rural Kent and over the North Downs to Dover.
You'll get the ferry from Dover to Calais, then ride for the next three days through stunning French countryside, historic towns and the famous Somme region.
On the last day you'll ride into Paris. You've got a day to relax and rest your legs before catching the Eurostar back to London.
Cycle London to Paris with Team Amnesty
What we'll give you
Training support
Join Team Amnesty and we'll give you a training plan and tips for getting you road-ready for this challenge.
Fundraising support
We'll give you an Amnesty t-shirt and fundraising pack, loads of fundraising materials and all the help and support you'll need to meet your target before you go.
Support on the ride
You'll ride in a group and be guided by trained event leaders, who'll be able to give you mechanical and medical support should you need it.
Support vehicles will carry your luggage, so you only need to stick the essentials in a saddle bag, and you'll be reunited with the rest of your luggage each evening.
Your transport, accommodation and meals are provided so all you have to focus on is keeping pedaling and enjoying the ride!
Cycle London to Paris with Team Amnesty
Is it for me?
If you're reasonably fit, over 18 and up for a challenge, then yes! You'll need to train in the run-up, in order to cycle around 75 miles per day for four days in a row, but with the right training this is a perfectly achievable challenge.
Costs
Transport (ferry crossing there; Eurostar back), accommodation, meals and luggage transportation are all covered by your registration fee and fundraising target - you don't need to worry about extra costs leading up to the trip.
Solo riders welcome
You'll join a group of Team Amnesty cyclists - there's likely to be a range of ages and fitness levels. You'll have a love of human rights and cycling in common already! This challenge is a great way to meet like-minded people and make lasting friendships while you pedal away the miles, so don't worry about joining on your own - there will be other solo riders too and we'll gladly welcome you to the team!
Or get friends involved!
This could be the opportunity to get a bunch of mates or colleagues together and collectively do your bit for human rights. Training rides with a group of people can make getting ready for the challenge much easier - especially when you're reluctant to get out and get a few miles in your legs!
Whether you're on your own or applying as a group, all are welcome.
Cycle London to Paris with Team Amnesty
Get in touch
If you have a question about this event, please contact David Blakeley, our Community Fundraising Coordinator.
Email: team@amnesty.org.uk
Phone: 0207 033 1646