Malvern
Since opening our doors in 1998, our popular second-hand bookshop has been serving the local community of Great Malvern as well as those on a visit to this attractive hillside town. With ten thousand high quality second-hand books to choose from, there is something for everyone and the shop is a must visit destination for booklovers. Run by a dedicated volunteer team, you can expect to find a warm welcome and help on hand if you need it.
Opening hours:
Monday: 1.30pm - 5.30pm
Tuesday-Saturday: 10.00am - 5.00pm
Sunday: Closed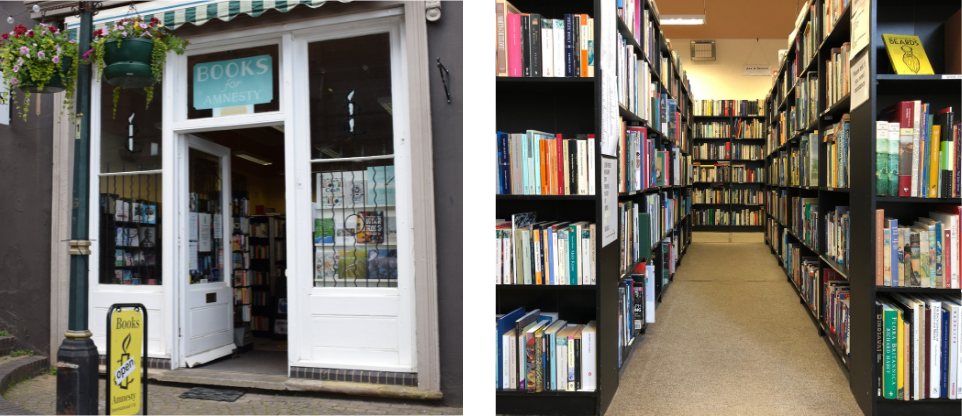 Thanks to many generous donations, you can enjoy browsing everything from classics to contemporary fiction and from social sciences and history to art and poetry, while our colourful children's corner is a magnet for younger visitors. 
Before Christmas we also sell a range of Amnesty cards, calendars and diaries.
Donations help us keep our stock fresh and exciting, so if you're thinking of donating to us, we'd love to hear from you. Because we sell on line via Abebooks, as well as in the shop, you can be sure that we will achieve the best possible return for your books. 
We are always looking for people to join our volunteer team. If you want to learn more, please pop in for a chat and an application form.

---
Follow Us:
To stay up-to-date on the very best of our new arrivals, as well as the latest news and promotions, follow us on:

 @booksforamnestymalvern
 @booksforamnestymalvern
---
Events and Promotions:
Our shop often gets involved with local events and offers promotions. Be sure to check in regularly to see what's on offer – or follow our social media accounts for the latest news. 
---
How to find us:
3 Edith Walk  
Great Malvern 
Worcestershire WR14 4QH
Edith Walk runs down from Belle Vue Terrace adjacent to HSBC.
---
Accessibility:
For those visiting by car, please note that street parking outside the shop is limited to one hour. However, there is a pay and display car park nearby and also Waitrose, with its large car park, is within easy walking distance.
Unfortunately, wheelchair users may find access difficult owing to the steepness of the hill, and steps surrounding the approach to the shop. Do ring ahead of your visit if you want more detail, or assistance. 
---
Donations & Collections:
We are happy to accept walk in donations of books at any time during our opening hours. If your donation is larger - more books than one person can carry in a single trip – please contact the shop on 01684 563 507 before visiting. This way, we can confirm that we are able to take it, arrange a convenient time for you to visit, and make sure we are ready for you when you arrive.
We also offer a collection service for certain donations and can accommodate most requests within a few weeks. Please use the contact details below to make arrangements.
---
Buy online:
You can also buy books stocked by The Amnesty Bookshop Great Malvern on AbeBooks.co.uk.
---
Contact us:
If you want to get in touch about any of the above or have any other questions, we'd love to hear from you. 
Email us: malvernbookshop@amnesty.org.uk  
Call us: 01684 563 507
Or pop into the shop, where you'll always find someone who's happy to help.