Edinburgh
Since opening our doors in 2016, our popular second-hand bookshop has been serving the local community of Marchmont, and far beyond. Now very much established our shop is a must visit destination for booklovers in the area. Run by dedicated volunteers, you will be sure to find a warm welcome and shelves brimming with a wide range of fiction and non-fiction thanks to brilliant local donations. A space where everyone is welcome and your next read awaits.
Opening hours:
Monday - Saturday: 10.30am - 5.30pm
Sunday: 11.30am - 4.30pm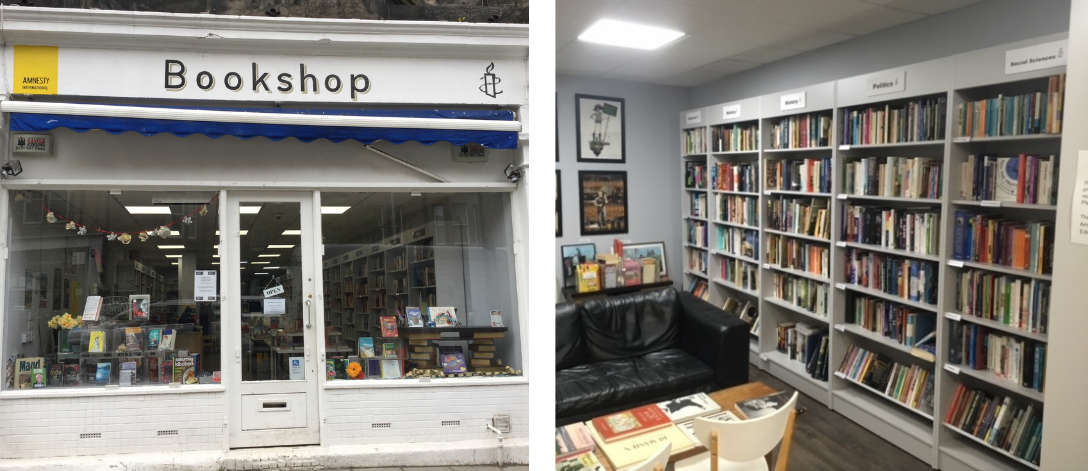 With constantly changing shelves, you can enjoy browsing a wide range of good quality, second-hand books. Whether you are looking for Scottish authors, local interest, collectibles, social sciences, art, poetry, politics, history or children's books, there is plenty to choose from here.
Alongside the books we also sell a range of greeting cards and branded Amnesty products, as well as a wider ethical gift offer at Christmas.
Donations help us keep our stock fresh and exciting, so if you're thinking of donating to us, we'd love to hear from you. Please refer to the donation section below.
We are always looking for people to join our volunteer team. If you want to learn more, please click here or pop in for a chat.

---
Follow Us:
To stay up-to-date on the very best of our new arrivals, as well as the latest news and promotions, follow us on:

 @amnestybookshopedinburgh
---
Events and Promotions:
Our shop often gets involved with local events and offers promotions. Be sure to check in regularly to see what's on offer – or follow our social media accounts for the latest news. 
---
How to find us:
12 Roseneath Street
Marchmont
Edinburgh
EH9 1JH
---
Accessibility:
For those coming by car there is some pay and display parking on the neighbouring roads.
Our shop is also right beside the 41 bus stop.
The shop floor is all on one level, but it should be noted that there is a small step at the entrance.
---
Donations:
We are happy to accept smaller walk in donations of books at any time during our opening hours. If your donation is larger - more books than one person can carry in a single trip – please contact the shop on 0131 221 1596 before visiting to make an appointment. This way, we can confirm that we are able to take it, arrange a convenient time for you to visit, and can make sure we are ready for you when you arrive.
Plus, if you are a UK taxpayer, we can sign you up for retail gift aid and help your donation to raise even more.
If you turn up hoping to donate books and find the shop is closed, please don't leave the books outside.
---
Contact us:
If you want to get in touch about any of the above or have any other questions, we'd love to hear from you. 
Email us: edinburghbookshop@amnesty.org.uk  
Call us: 0131 221 1596