Urgent Actions Update: Medical doctor found alive but tortured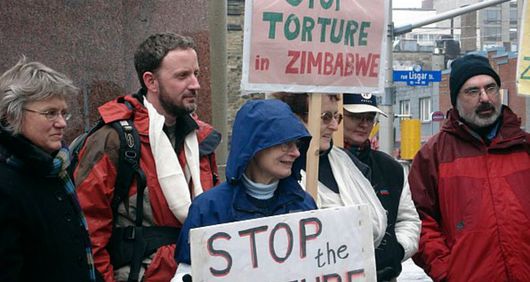 On 19 September 2019, Dr Peter Magombeyi, a medical doctor was found alive and disoriented, dumped about 33 km outside of Harare, Zimbabwe in a village called Nyabira. Dr Magombeyi was abducted on the night of 14 September 2019.
He said he was held in a basement where he was tortured. There are fears that he was injected with an unknown substance by his abductors. The government has accused Dr Magombeyi of faking his abduction and tried to prevent him from seeking medical treatment outside the country.
It is feared he may be arrested and charged for "faking an abduction" upon his return to Zimbabwe.
On 30 August 2019, the Zimbabwe Hospital Doctors Association (ZHDA) served notice that doctors across the country would not report for work starting from 3 September. They cited poor salary, as well as lack of success by the association in reaching a settlement with the employer. The letter was signed by Dr Peter Magombeyi, as the Acting President of ZHDA.
As a result, he received threats from suspected members of the Central Intelligence Organisation, including a warning that they would abduct him if he continued to organise the strike. One of the screenshots, with a locally registered number, said (loosely translated) 'do not say I didn't warn you. Keep on being stubborn. You will be taken by a whirlwind. We are getting close now".
PLEASE TAKE ACTION before 5 November 2019
Please write using your own words or the template letter provided in the attached documents, in English, Shona or your own language, to the listed address as soon as possible:
His Excellency President Emmerson Mnangagwa
Munhumutapa Building
Private Bag 7700
Causeway, Harare
Zimbabwe
Email: info@opc.gov.zw
Downloads