March 2015 local groups pack - Syria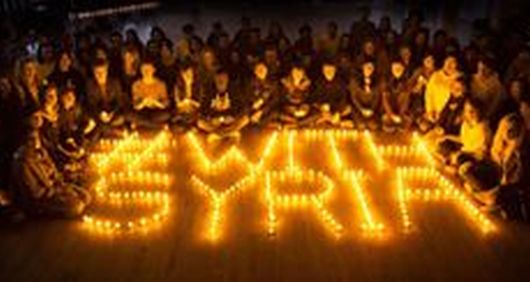 Marking the fourth anniversary of the 2011 Syrian uprising on 15 March 2015
Satellite images show that since the conflict began, three quarters of the electric lights in Syria have gone out. Four years of crisis have literally plunged Syria's people into the dark: destitute, fearful, and grieving for the friends they have lost, and the country they once knew. Meanwhile, the spectre of ISIS has fuelled fear and entrenched dangerous divisions within and beyond the region.
Public and policymaker confidence that an end to the violence and suffering can be found is low. Yet every day, ordinary Syrians, like those in the Syrian Non Violence Movement (SNVM) are committing extraordinary acts of courage and heroism.
By showing solidarity with these heroes we will inspire people around the world to act to Turn the Lights Back On. In a series of connected campaigns at specific moments, beginning on the fourth anniversary, online mobilisation, global coordinated offline actions, and high-impact media work will show governments that people care about the plight of Syrians, and demand action. 
Help Turn the Lights Back On in Syria and bring its people out of the darkness
Our key calls to governments, including the UK, are:
1. Boost the humanitarian response - fully fund the aid response and ensure refugees seeking safety find asylum, including through increased resettlement for the most vulnerable;
2. Stop attacks on civilians - send an unequivocal message to parties to the conflict that attacks on civilians and blocks to aid will not be tolerated; and
3. Prioritise a political solution with human rights at the heart - a halt to the suffering can only be achieved if negotiations - whether local or international - include safeguards to ensure respect for international humanitarian and human rights law.
Find out everything you need to know in the downloads below.