Local group activity pack, June 2014 - Brazil World Cup and Human Rights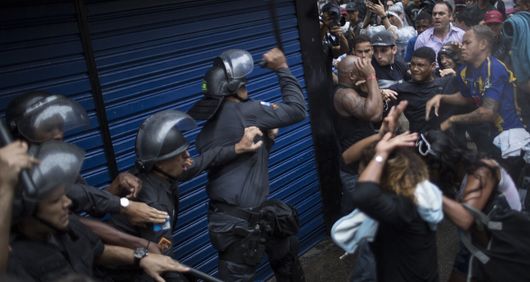 Riot police break up protest at death of Douglas Rafael Pereira da Silva, 24 April 2014 © AP
Brazil World Cup 2014 and Human Rights: One Goal – No Violence
As the Brazil World Cup approaches on 13 June 2014, millions of people worldwide will be preparing to join in with the celebrations. But as the celebrations are starting Amnesty is expressing serious concerns over the right to Freedom of Expression and increased police brutality in the context of protest in the country.
Since June 2013 Brazil we have seen large scale demonstrations taking place in the country, showing great discontent with the poor quality of public services in the context of the World Cup and  Olympics 2016 being hosted there. What started as demonstrations protesting against very specific issues such as increased travel fairs ahead of the World Cup have now broadened out to wider issues including poor health care, education and the impact the events will have on thousands of people living in the urban areas.
As hundreds of thousands of people taking part in protests and peaceful demonstrations across major cities such as Rio de Janeiro and Sao Paulo, it has been made very clear that Brazilian police have not been properly trained to deal with demonstrations and protest at this scale.  As a result the police have often responded with using excessive and unnecessary force including the increased use of less lethal weapons such as tear gas, pepper spray, stun grenades and rubber bullets.
Two individuals that have been affected by the police brutality in Brazil and increased police presence in ahead of the World Cup is 26-year-old Douglas Rafael Pereira da Silva and 27-year-old Edilson Silva dos Santos who were both caught up in violence and shot to death by the police. No one has yet been held to account for their killings.