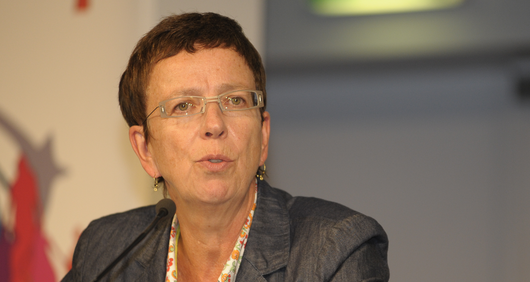 Kate Allen has been the Director of Amnesty International UK since 2000. She engages in high-level lobbying with senior government figures and is a member of the Foreign Secretary's advisory group on human rights. Each year she gives evidence on our behalf to the Parliamentary Foreign Affairs Select Committee.
Kate also regularly attends local group meetings, regional and national conferences and other supporter events.
In her role as Director, Kate has travelled across the world on behalf of Amnesty, including joining a research mission to Egypt soon after the revolution in 2011. She has also visited countries including Afghanistan, Kenya, Israel and the Occupied Palestinian Territories, Rwanda and Nepal - meeting those working to defending human rights and those whose rights have been abused, as well as government representatives.
Kate was previously Deputy Chief Executive at the Refugee Council, where she headed the UK emergency evacuation programmes from Bosnia and Kosovo and chaired the Asylum Rights Campaign. In 1998/99 Kate was seconded to the Home Office where she worked on the 1999 Asylum and Immigration Act.
Download her full biography below. 
Downloads