Hearts and Lives Broken: The Nightmare of Uyghur Families Separated by Repression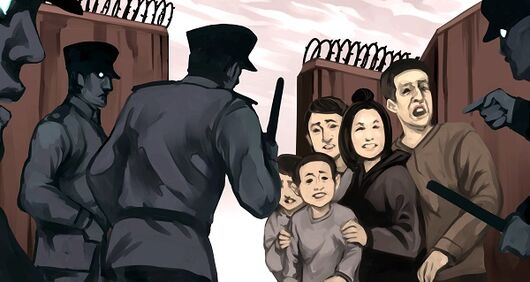 Call on China to allow reunion of Uyghur families
Some Uyghur parents have been separated from their children as a result of the unprecedented crackdown on ethnic populations in Xinjiang. With your voice, we can push China to end this separation.
Mihriban and Ablikim's Story
Mihriban and Ablikim fled from Xinjiang to Italy in 2016 after being harassed by police and pressured to give up their passports. They left their four children in the temporary care of grandparents, but soon afterwards the grandmother was taken to an internment camp while the grandfather was interrogated by police.
In November 2019, they received a permit from the Italian government to bring their children over. However, the four children – aged between 12 and 16 – had to travel alone across China to the Italian consulate in Shanghai to apply for Italian visas. Sadly, they were seized by police and sent back to the orphanage and boarding school in Xinjiang.
Mihriban and Ablikim's story is tragically not unique. Many Uyghur parents overseas have had to leave one or more children in the care of family members in Xinjiang. Some parents have since learned their children were taken to state-run "orphan camps" or boarding schools after the relatives taking care of them had been detained.
The mass detention campaign in Xinjiang has prevented Uyghur parents from returning to China to take care of their children themselves. It has also made it nearly impossible for them to bring children whose passports have been denied or confiscated out of China to be reunited with them.
What you can do
Use the template letter below to write to the Chinese government and ask them to ensure that children are allowed to leave China to be reunited as promptly as possible with their parents and siblings already living abroad (if that is preferred by them).
Send your letter to:
Xi Jinping
President of China
Zhongnanhai
Xichangan'jie
Xichengqu, Beijing Shi 100017
People's Republic of China
Fax: +86 10 6238 1025
Email: english@mail.gov.cn
Salutation: Dear President, 
Chen Quanguo
Party Secretary of Xinjiang Uyghur Autonomous Region
Party Secretary of the Xinjiang Uyghur Autonomous Region
479 Zhongshan Lu
Wulumuqi Shi, Xinjiang
People's Republic of China
Chinese name:陈全国
Chinese title: 新疆维吾尔自治区党委书记
Chinese address: 中国新疆维吾尔自治区乌鲁木齐市天山区中山路479号
Salutation: Dear Secretary
 
You can download the whole story page in PDF below.