Groups activity pack, September 2014 - Women's Rights in Afghanistan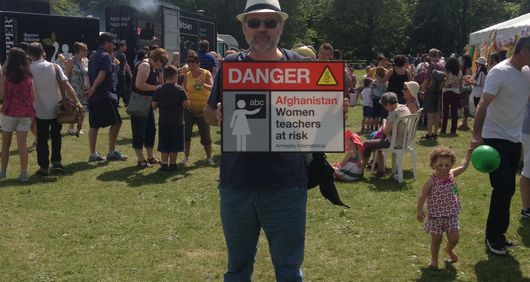 We are entering the final, crucial phase of our work on women's rights in Afghanistan. The presidential elections – marking Afghanistan's first ever democratic transfer of power - took place in April. Upcoming NATO and London Conferences in the Autumn will now finalise if and how the International Community will remain involved after troops leave at the end of the year. In this critical time we must protect and build on the gains that have been achieved for women's rights in Afghanistan over the last thirteen years.
A demonstration of how far Afghanistan has come since Taliban rule ended in 2001 is the recent democratic elections. Despite repeated threats of violence from armed insurgents, approximately 60% of Afghans took to the polling stations on Election Day - 35% of those voters were women. Unfortunately, the results of the elections have not been so positive with both Presidential candidates accusing each other of electoral fraud. This has resulted in an audit process reviewing more than 8 million votes. Although an optimistic timeline has been put in place, as it stands, it is unlikely that the next President of Afghanistan will be decided before the NATO summit in Newport, Wales at the beginning of September.                                                     
While the new parliament is still to be decided, it remains unclear who will attend the NATO summit on behalf of the Afghan government. However, it seems highly likely that Afghan women's participation in the summit will be extremely low. Even more worryingly the UK government, despite hosting the Summit, has not appeared to take any action to encourage the Afghan government to include women in its delegation, or deliver on the commitment made in June 2014 that Women, Peace and Security principles will discussed at the NATO summit. It is absolutely essential that the UK government are publically held to account for this backslide on women's rights.
Download the campaign update below for more information and everything you need to take action.