Groups activity pack, April 2014 - Central African Republic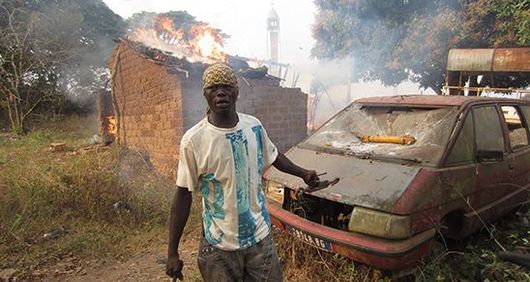 Protect civilians in Central African Republic
Anti-balaka (which means anti machete – militia made up of Christians) militias are carrying out violent attacks in an effort to ethnically cleanse Muslims in the Central African Republic.  
The existing international peacekeeping forces, including the French operation Sangaris and the African-led International Support Mission to the Central African Republic (MISCA) have not been able to contain the violence nor curb the flight of entire Muslim communities to neighboring countries. According to the latest UN estimate in early March, only 900 of 140,000 Muslims remain in Bangui, and those left behind fear for their lives. Dozens of towns and villages in the western third of the country, which once were home to thousands of Muslims, have been forcibly emptied of their Muslim population. Many homes, churches and mosques have been destroyed, as witnessed by Amnesty International.
Amnesty's research and recent mission shows that the situation in Central African Republic is dire and that increased support from the international community is needed. This is supported by other reports including the latest report of the UN Secretary General to the UN Security Council recommending a transition to a United Nations peacekeeping mission with a primary mandate to protect civilians.
Reports are also indicating that the anti-balaka militias are increasingly becoming organised and the Séléka forces are regrouping in the northeast of the Central African Republic. This is further compounded with increased proliferation of arms and weapons into the country in breach of the United Nations Security Council arms embargo.