Climate Strikes Campaign Briefing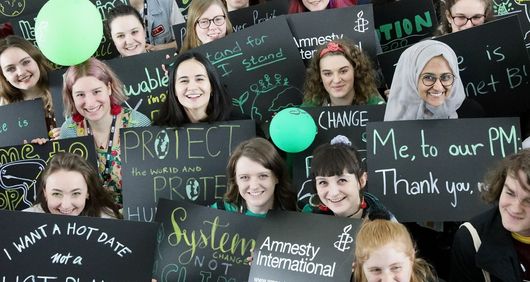 UPDATE: Template University and Student Union Motions on declaring a Climate Emergency now available to download ?
Amnesty International has named the insufficient action of governments to act on climate as potentially the biggest inter-generational human rights violation in history.   
Inspired by the initiative of Swedish school student Greta Thunberg, hundreds of thousands of young people around the world including in the UK have gone on monthly strikes from school to highlight the issue.
An international week of action, from the 20th - 27th September, has been called by student leaders around the world, and is supported by Amnesty International amongst others. The 20th September will see a day of strikes organised by UKSCN, and the 27th September will be a global strike. 
The Amnesty Student Action Network is encouraging all student groups to support the week of action and subsequent strikes during the 2019-2020 academic year. This means finding out what's happening where you are, helping to make it visible, accessible and safe, and mobilising as many people to come as possible. 
If there isn't anything organised where you are already, your group can organise it! This could be a protest in the centre of your campus, a rally in a lecture theatre, a teach-in about climate change or something else.
In your Freshers Pack you'll find lots of materials to help mobilise students on your campus around the strikes, which you can give out at your Freshers Fair and other events. 
Download the briefing below for more information, and get in touch with your Student Action Network rep if you're planning to get involved.