Book and Activities: Here I Stand: Stories That Speak For Freedom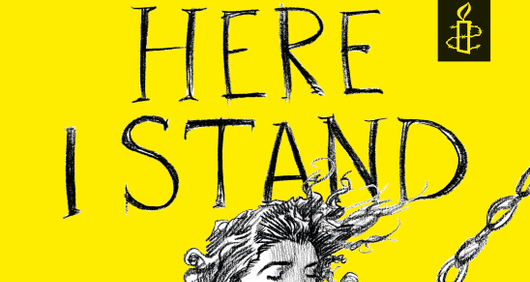 Here I Stand, an anthology from Amnesty International, explores the rights and freedoms we enjoy in the 21st century… and those for which we still need to fight.
The collection has contributions from 25 leading writers and illustrators inspired by the Universal Declaration of Human Rights. Their stories and poems are poignant, challenging, heart-breaking, angry and haunting. They cover issues likely to resonate with teenagers today, such as fear of terrorism, hostility to refugees, lives locked into gang 'honour', child sex abuse, freedom of speech, invasive state surveillance, homophobic bullying and race hatred. All touch on the importance of having the courage to speak up against injustice, and for freedom, solidarity and activism.
Here I Stand will help young minds confront darker aspects of humanity. There are also some empowering stories, as in the midst of horror people respond with
compassion and courage. We see how precious and fragile our rights are; how they need to be defended constantly; and how we all need to support each other and do what we can to bring about a school, community and world we want to live in.
Contributors include John Boyne, author of The Boy in the Striped Pyjamas, Scottish poet laureate Jackie Kay, Costa-winners Frances Hardinge and Christie Watson, Carnegie 2016 winner Sarah Crossan, Matt Haig, Neil Gaiman, AL Kennedy and imprisoned WikiLeaks whistle-blower Chelsea Manning, with an introduction from prominent human rights lawyer Jules Carey.
Downloads