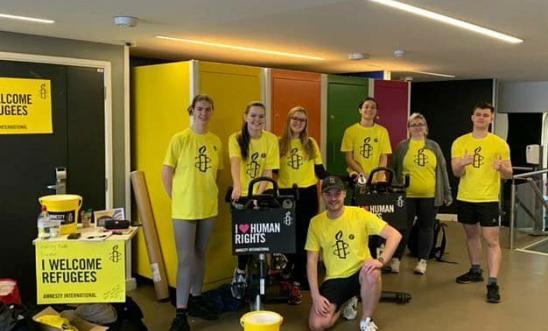 Students are some of Amnesty International UK's most enthusiastic and passionate supporters. We work with students to organise campaigning activities and a wide range of different fundraising events. A big part of this is our work with university RAG societies and also our work with student fundraisers who don't have the support of a RAG. Read on for more info about how you or your RAG can work with Amnesty International UK.
Challenge Events
Working with RAGs on challenge events can raise tens of thousands of pounds in support of human rights work and gives students the opportunity to develop important skills like event planning and effective digital communication. We have run many challenge events in the past including:
Dash to Dubrovnik: an 8-day drive from Dover to Dubrovnik in a car worth no more than £500, taking in 12 countries and some of the best sights Europe has to offer
Kilimanjaro Challenge: students go from Savannah heat to a frozen mountain top as they climb to the highest point in Africa's
Colombia Lost City Challenge: a trek through the Colombian jungle to the ancient city of Ciudad Perdida.
Three Peaks: students will climb the three highest mountains in England, Scotland and Wales in 36-hours
These are just a selection of the treks we've worked on. If you're interested in running a trek to support Amnesty International UK, email fundraise@amnesty.org.uk to arrange a meeting.
Becoming a Challenge Leader
Challenge events are led on campus by a Challenge Leader. Challenge Leaders work with the challenge provider to help recruit a team of fundraisers on campus, and they work with us to help support the team hit their fundraising targets across the year. This involves:
Working on fundraising workshops
Organising team fundraising events
Helping support RAG Raids
Organising socials to help bring the team together
In return for their efforts, challenge leaders are given a discount on their fundraising target.
Challenge leaders are often supported by a RAG society, but we also have plenty of independent Challenge Leaders who recruit and support a team of fundraisers without the backing of RAG. Whether you're working with your university's RAG society or you're going it alone, our Community Fundraising and Events team are on hand to support you. We offer training, free fundraising resources, support applying for public collections, and lots more.
Email fundraise@amnesty.org.uk if you have any questions about becoming a Challenge Leader with Amnesty International UK.
Charity of the Year
We are also keen to work with RAG societies over the course of the year as one of your charities of the year. If you'd like to discuss working with Amnesty International UK, email fundraise@amnesty.org.uk to speak to our Community Fundraising and Events team about how we could work together.
Support from Amnesty International UK
Whatever way we work together, our Community Fundraising and Events team are on hand to help you. We provide bespoke support to all fundraisers based on their needs, but below are examples of some of the things we can do to support student fundraisers:
Provide free fundraising materials such as t-shirts, buckets, stickers, card readers and more
Run fundraising workshops to give students the confidence and skills they need to put on fundraising events
Help apply for permits to run public collections in town centres, train stations, and at events.
Support the recruitment of volunteer fundraisers with the help of challenge providers
Speak about human rights and the work of Amnesty International UK so fundraisers understand the importance and impact of their efforts