Procedure for Children at Possible Risk of Harm or Abuse
Purpose:
Purpose and aim of this procedure
We aim to ensure that those children who engage with Amnesty International UK receive the protection and support they need if they are at risk of abuse or harm.
This procedure provides clear direction to staff and volunteers at Amnesty International UK if they have concerns that a child is in need of protection.
Scope:
This procedure applies to any paid member of staff or volunteer who may be concerned about the safety and protection of a child or young person under the age of 18.
Ways that abuse or harm might be brought to your attention
a child might make a direct disclosure about him or herself.
a child might make a direct disclosure about another child.
a child might offer information that is worrying but not a direct disclosure.
a member of staff or volunteer might be concerned about a child's appearance or behaviour or about the behaviour of a parent, carer or Amnesty staff member or volunteer towards a child.
a parent might offer information about a child that is worrying but not a direct disclosure.
a member of staff or volunteer might become aware of risk of harm to a child or young person during the course of their engagement with Amnesty International UK
Definitions:
Child abuse is significant harm caused to any child (including third party abuse) by neglect, physical injury, sexual abuse or emotional damage.
NEGLECT as the persistent or severe neglect of a child, or the failure to protect a child from exposure to any kind of danger, including cold or starvation, or extreme failure to carry out important aspects of care, resulting in the significant impairment of the child's health or development, including non-organic failure to thrive;
PHYSICAL INJURY is the actual or likely physical injury to a child or young person, or failure to prevent physical injury (or suffering) to a child;
SEXUAL ABUSE is the actual or likely sexual exploitation of a child or young person; and
EMOTIONAL ABUSE is the actual or likely severe adverse effect on the emotional and behavioural development of a child by persistent or severe emotional ill treatment or rejection
Signs and symptoms of child abuse 
Some signs of physical abuse
Unexplained burns, cuts, bruises, or welts in the shape of an object 
Bite marks 
Anti-social behaviour 
Problems in school 
Fear of adults 
Drug or alcohol abuse 
Self-destructive or suicidal behaviour 
Depression or poor self-image 
Some signs of emotional abuse 
Apathy 
Depression 
Hostility 
Lack of concentration 
Eating disorders 
Some signs of sexual abuse 
Inappropriate interest in or knowledge of sexual acts 
Seductiveness 
Avoidance of things related to sexuality, or rejection of own genitals or bodies 
Nightmares and bed wetting 
Drastic changes in appetite 
Over compliance or excessive aggression 
Fear of a particular person or family member 
Withdrawal, secretiveness, or depression 
Suicidal behaviour 
Eating disorders 
Self-injury
Sometimes there are no obvious physical signs of sexual abuse, and a physician must examine the child to confirm the abuse. 
Some signs of neglect:
Unsuitable clothing for weather 
Being dirty or unbathed 
Extreme hunger
Lack of supervision
Who Can Abuse? 
You can't tell by looking at a person whether they are an abuser – they don't appear different from the rest of the society. 
Abusers come from all positions of society and all professions.
Abuse of children may sometimes be carried by strangers but it is much more common that the abuser is known to the child and is in a position of trust and /or authority.
It is not only adults who abuse children; children may suffer abuse from other children and young people.
Abusers might include: 
Adults who are unable to provide consistent care 
Some adults, including professionals, who manipulate themselves into positions of trust where they can exploit children and young people, emotionally and sexually. 
Some adults, including professionals, who by behaving inappropriately towards children and young people can cause them to suffer physical or emotional harm. 
It is very important to draw the distinction between sexual abuse and the other ways in which children may suffer harm – the reasons for the sexual abuse of children and young people are very different from the reasons why people physically abuse or neglect them.
Specific Procedure:
Talking to a child who has told you that he/she or another child is being abused
Reassure the child that telling someone about it was the right thing to do.
Tell him/her that you now have to do what you can to keep him/her (the child who is the subject of the allegation) safe.
Let the child know what you are going to do next and who else needs to know about it.
Let the child tell his or her whole story. Don't try to investigate or quiz the child, but make sure that you are clear as to what he/she is saying.
Ask the child what he/she would like to happen as a result of what he/she has said, but don't make or infer promises you can't keep.
Give the child the ChildLine phone number: 0800 1111.
Helping the child in immediate danger or in need of emergency medical attention
If the child is in immediate danger and is with you, remain with him/her and call the police.
If the child is elsewhere, contact the police and explain the situation to them.
If he/she needs emergency medical attention, call an ambulance and, while you are waiting for it to arrive, get help from your first aider.
If the first aider is not available, use any first aid knowledge that you may have yourself to help the child.
You also need to contact your supervisor/manager or designated safeguarding officer for children to let them know what is happening.
A decision will need to be made about who should inform the child's family and the local authority children's social care department, and when they should be informed. If you have involved the police and/or the health services, they should be part of this decision. Consider the welfare of the child in your decision making as the highest priority.
Issues that will need to be taken into account are:
The child's wishes and feelings.
The parent's right to know (unless this would place the child or someone else in danger or would interfere with a criminal investigation).
The impact of telling or not telling the parent.
The current assessment of the risk to the child and the source of that risk.
Any risk management plans that currently exist.
Once any immediate danger or emergency medical need has been dealt with, follow the steps set out in the flowchart below:
AIUK Child Protection Procedure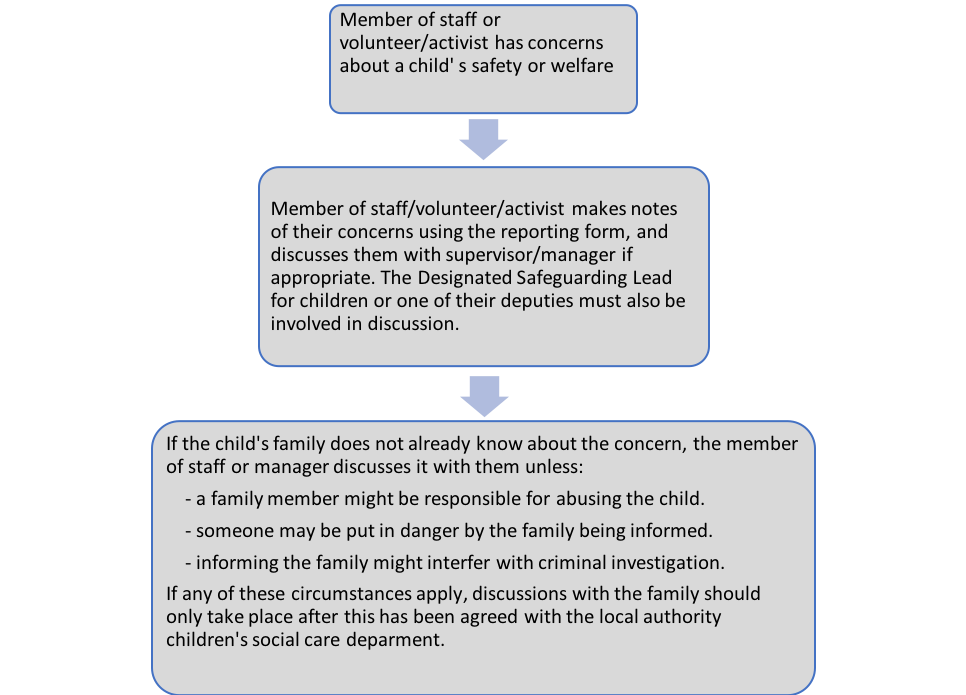 Keeping a record of your concerns
Use the safeguarding incident reporting form to record the concern and how it is dealt with. The relevant sections of the form should be completed and signed at each stage of the procedure. It can be used to forward information to the statutory protection authorities if a referral to them is needed.
The form should be signed and dated by all those involved in its completion and kept confidentially on the child's file. The name of the person making the notes should be written alongside the entry.
Useful contact details
Designated safeguarding lead for children and deputies: 
AIUK Designated Safeguarding Lead: 
Mairéad Healy, Head of Safeguarding
Email: Mairead.Healy@amnesty.org.uk
Phone: 0207 033 1761
AIUK Deputy Safeguarding Leads:
Irene Fufeyin, Head of HR
Email: Irene.Fufeyin@amnesty.org.uk
Phone: 020 703 31693 
NSPCC Helpline: 0800 800 5000 or help@nspcc.org.uk
ChildLine: 0800 1111 (textphone 0800 400 222) or www.childline.org.uk
Reporting child protection concerns
If a child is in need of emergency medical attention or in immediate danger, follow the procedure set out in the section above on helping a child in immediate danger or in need of emergency medical attention.
You should then take the steps set out in the flowchart above to ensure the concern is dealt with.
Related policies, procedures, processes, forms guidelines and other resources: 
This procedure is driven by the following policies and supported by the following processes, in order to enable our staff to carry out this procedure: 
Policy Statements
Procedures
Forms 
Guidelines 
Who is responsible for this procedure? 
Author/procedure contact: Kerry Moscogiuri, Designated Safeguarding Lead
Sign off: AIUK Safeguarding Team
Approved by/approval level: AIUK Safeguarding Team
Date effective: July 2018 - as interim draft
Last reviewed or updated: To be approved September 2018 by the Safeguarding Team
Frequency of review: Annually
Supersedes: New procedure
Downloads