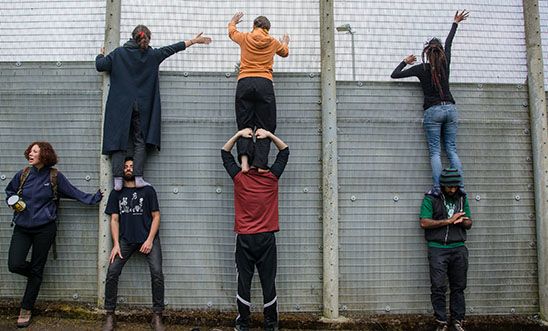 Protestors outside the Dungavel detention centre in Strathaven, Scotland. © JJFD Photography/Shutterstock.com
The UK Home Office still has the power to lock certain people up indefinitely, and it appears to do so as a matter of routine. It's high time for a change in approach to immigration detention, argues our refugee researcher Tom Southerden.
The UK's use of immigration detention has been a quiet disgrace for many years.
Between 2011 and 2014, the UK courts found five cases of inhuman or degrading treatment of detainees, violating Article 3 of the European Convention on Human Rights.
In 2015, the courts ruled that the fast-track system for detaining people seeking asylum and processing their cases quickly was so unfair that it was unlawful. It had to be stopped immediately.
Undercover reporting and research by groups such as Women for Refugee Women and Medical Justice has revealed high levels of self-harm among detainees, and conduct by detention centre staff ranging from verbal and physical abuse to repeated sexual harassment and intrusive treatment of female detainees. Over the past five years, the Home Office has been forced to pay out more than £21 million in compensation for unlawful detention.
The underlying issue in all these scandals is the approach the Home Office takes to its detention powers. In 2015, a joint parliamentary inquiry found that 'the UK detains too many people, for too long a time, and that in far too many cases people are detained completely unnecessarily'. In 2016, the Home Office-commissioned Shaw Review into 'The Welfare of Vulnerable Persons in Detention' recommended that the use of immigration detention should be reduced considerably. In response, the Home Office announced a package of reforms intended to 'lead to a reduction in the number of those detained, and the duration of detention before removal, in turn improving the welfare of those detained.'
Two years on, little has changed. More than 27,500 people were detained in 2017 and the number held for more than six months has increased. In the vast majority of cases, there is no time limit for immigration detention. Its duration is indefinite.
We decided to investigate the Home Office's use of its detention powers sinc e January 2016, when it announced its reforms. We examined Home Office policy and guidance documents. We studied Home Office casework files. And we interviewed detainees, their family members and lawyers that represent them to hear their stories. This is what we found:
Serious harm
Serious harm is being done to detainees' mental and physical health. Interviewees told us one of the worst things was the uncertainty of indefinite detention, and seeing the damage inflicted by long-term detention on their fellow detainees. One detainee, who had been held for six months when we met her, described indefinite detention as 'emotional torture', telling us: 'I don't even know myself anymore. You don't know what's next and what's not next. So, you don't have a reason to live sometimes.' The detention of one person often affects an entire household. The detention of a parent is deeply distressing for children, with long-term consequences for behaviour and performance at school. Adult family members, particularly women, are left with increased caring responsibilities.
Home Office complacency
There is a deep-seated complacency in the Home Office about the use of detention powers, resulting in unjustifiable decisions to apply them. We found people who were detained simply because they appeared to the caseworker to be 'removable' from the country, not because detention was necessary or proportionate. Caseworkers often failed to examine the details of a case – details that challenged the assumption of straightforward removal. There was scant consideration of the rights and best interests of the detainee's family, including children, in the UK. One mother was detained by the Home Office while her child was at school and no-one came to fetch the child at the end of the day.
Detention for convenience
Once a person had been detained, detention was often maintained as a matter of default or convenience. Immigration detention is supposed to be a last resort. But caseworkers often sought to justify continued detention unless release absolutely could not be avoided, using far- fetched reasoning and unrealistic assessments about the prospect of removing someone from the UK. In one case, a Palestinian man faced deportation after committing a string of petty offences to fund a drug addiction. He had lived in the UK for 31 years and had been born in a refugee camp in Jordan before being taken as a young child by his family to live in Italy. Although he did not have Jordanian citizenship, the Home Office held him for 15 months while it fruitlessly attempted to find a way to deport him to Jordan.
More detention centres = more people detained
It appears that the main influence on the numbers of people detained is the opening and closing of detention centres. Following the current pattern, if more detention centres are opened, more people will be found to put in them.
Fundamental problems
Such fundamental problems require fundamental solutions. A universally-applicable time limit for detention would be a good start. We have launched a petition demanding such a time limit, and Amnesty is part of a broad group of organisations campaigning for the government to implement one as soon as possible. The limit must be short enough to act as a serious constraint on Home Office use of detention and provide relief to the thousands of detainees who live in fear of being held for weeks, months and even years.
The upcoming Immigration Bill may present an opportunity for this: a growing number of parliamentarians are pressing the government for change. In the meantime, it is vital that the Home Office does what ministers said it would: close more detention centres, cut its use of immigration detention and ensure that anyone who is detained is held for a far shorter time.
Indefinite immigration detention is deeply harmful to the people affected by it. To use it as a matter of routine is cruelly irresponsible. It is high time the Home Office started to approach its power to detain with the gravity it deserves.