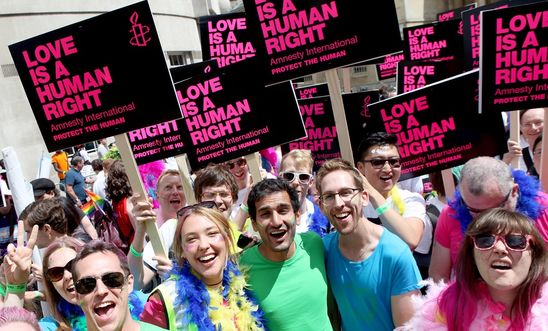 Last year, we had our biggest pride presence yet! Thanks to supporters like you, local activists and LGBTI rights leaders, we showed up with pride at over 30 parades and festivals across the UK. 
This year, we want to be louder and prouder than ever before. 
There can be few Human Rights as fundamental as those which allow us to stand up and stand together; those rights which allow us to claim ourselves, to love without limit, and to say we are here, and we are proud, and we will not be limited by other people.
Pride in London is the UK's biggest LGBTI pride parade and festival – and as well as being important and powerful, it is a celebration that is joyful, exciting and unique. 
This year it falls on July 8th, and our group will be meeting in the early afternoon. You can find more details and register your place to attend here. 
We also have major presences at Manchester, Brighton, Bristol and Belfast prides – as well as dozens of others all over the UK. To find your nearest and to get involved, contact your local group, or get in touch with pride@amnesty.org.uk.
Thank you for your ongoing enthusiasm, commitment and solidarity with Pride. 
Love is a Human Right.