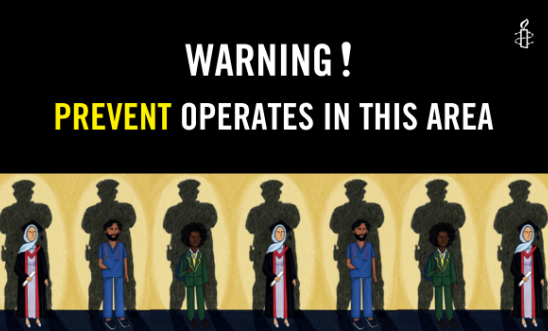 © Credit: @khadijadraws on Instagram
WHAT IS PREVENT?
How much do you know about Prevent – the UK's strategy 'to stop people becoming terrorists'?
Our new report - This Is The Thought Police: The Prevent duty and its chilling effect on human rights - illustrates that Prevent is a dangerously broken system. As a 'pre-crime intervention,' it is supposed to protect us by identifying people at risk of radicalisation into terrorism and stopping them before they do. But in reality, the vast majority of people reported under Prevent do not present any threat and the referrals require no further action. Prevent is seriously interfering with the lives and freedoms of thousands of innocent people, and it is leading to many people self-censoring out of fear of being reported to it.
THE HUMAN RIGHTS IMPACT OF PREVENT
The Prevent strategy defines certain indicators of 'radicalisation', but through speaking to interviewees, we found that decisions about who to refer to Prevent ultimately rely on 'gut feeling'.
This has led to Prevent having a racist and discriminatory impact. In many cases, those worst affected are among society's most vulnerable and marginalised people. For example, children, neurodivergent people and Muslims are most often wrongly flagged up as carrying a high risk of being 'drawn into terrorism' – even though they have never committed a crime. The reasons why people have been referred to Prevent are often shrouded in secrecy and there is no clear way to challenge referrals.
Prevent is stripping people of their basic human rights and hampering their ability to live, work and speak freely. It is ineffective and a waste of public resources, where this resource can be better allocated.
It must be scrapped.
Downloads