You're not powerless: How to make sure May doesn't rip up our rights
New government must keep human rights at the heart of British society – Amnesty UK
"You're not powerless... You've got this, snowflake" - Eddie Izzard voices new animation
'Not Powerless' movement launches to fight for our rights: notpowerless.uk
Amnesty is calling on the new government to uphold the UK's commitment to human rights.
During the election campaign on 6 June, Theresa May said human rights laws might be "changed" if they were deemed to "get in the way" of the authorities countering terrorism. Amnesty warned these remarks were "reckless and misinformed", and is now calling for our human rights to be safeguarded.
Amnesty has launched the Not Powerless movement for people wanting to protect our human rights and hold politicians to account.
A new animation to launch Not Powerless ridicules and reclaims the 'snowflake generation' label that has been used by public figures such as Piers Morgan and Michael Gove to describe young adults of the 2010s as less resilient and prone to taking offense.
Eddie Izzard voices the video which says:
"Are you offended that 82% of countries torture their own citizens? Are you offended by children drowning? Are you offended that hundreds of gay men can be abducted and killed?
"Sometimes you should be offended. We're offended too. You still have the power to change things. Now is not the time to stop.
"You are not powerless...You've got this, snowflake."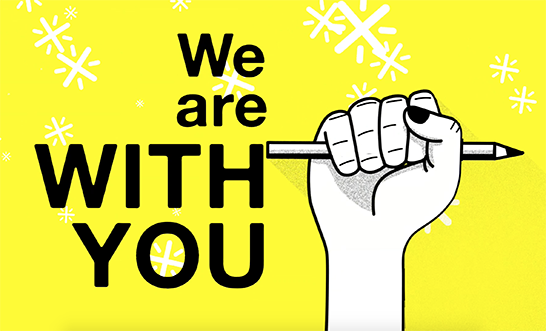 Director of Amnesty International United Kingdom Section, Kate Allen said:
"The misguided threats to tamper with our human rights in the name of security just days before the election clearly did not resonate with the public.
"Human rights are a vital cornerstone of our society, and must be protected and promoted both at home and abroad by the next government.
"As the new government is being formed, human rights must remain top of the agenda, and they must carefully protect our values and our freedoms."
Not Powerless aims to stand up for our freedoms and fight against injustices at home and around the world.
Last night, the launch video was projected onto buildings and sites around London as soon as polls closed at 10 pm [pictures available].
Notes to editors:
People can sign up to Not Powerless to access information, materials, events and opportunities that will help them join a global movement of people campaigning for equality, justice and fairness. Find out more and sign up at notpowerless.uk
Theresa May's comments on 6 June were made in the context of combating terrorism. May said "And if our human rights laws get in the way of doing it, we will change the law so we can do it."